The PDF editor makes it easy to complete the fed loan phone document. You should be able to prepare the file right away by using these basic steps.
Step 1: You can hit the orange "Get Form Now" button at the top of the web page.
Step 2: When you have entered your fed loan phone edit page, you'll see all options you can undertake regarding your document within the top menu.
Complete the fed loan phone PDF and type in the details for each and every section: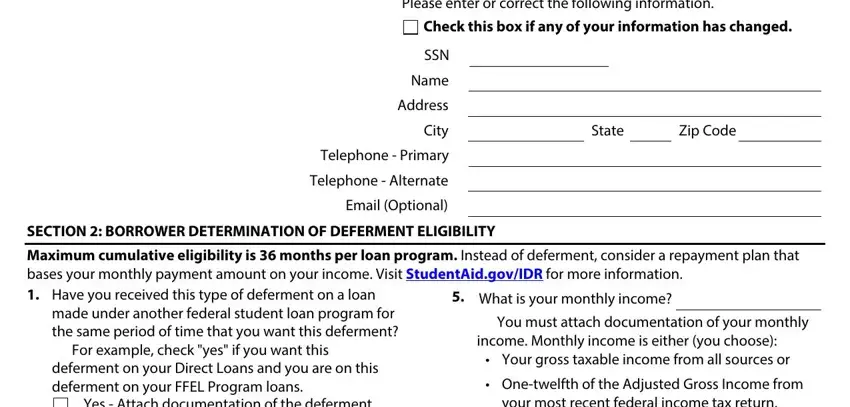 Enter the appropriate details in Yes Attach documentation of the, Have you received or are you, under a federal or state public, Qualifying programs include, Assistance for Needy Families TANF, Yes Attach documentation of the, Are you serving as a Peace Corps, Yes Attach documentation, Do you work full time, Fulltime employment means working, Onetwelfth of the Adjusted Gross, What is your family size Family, You, Your spouse, and Your children if they receive more section.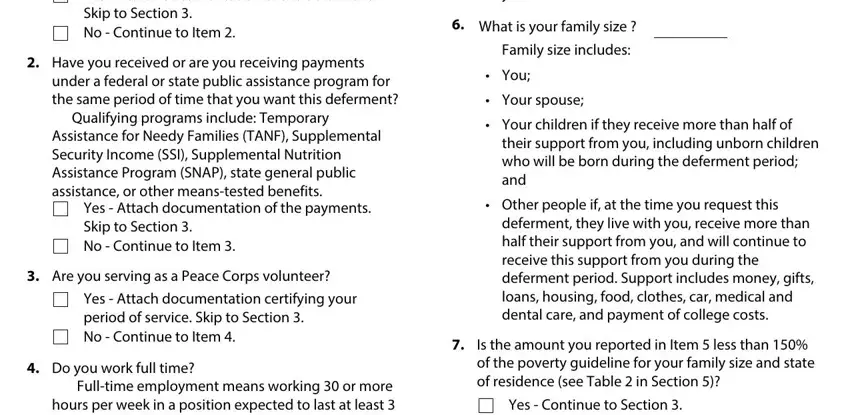 Write down the obligatory information when you are within the Fulltime employment means working, Yes Continue to Item, No You are not eligible for this, Page of, and No You are not eligible for this segment.

The Borrower Name, Borrower SSN, SECTION BORROWER REQUESTS, I request, To defer repayment of my loans, That my deferment begin on, If checked to make interest, I understand that, I am not required to make payments, My deferment will begin on the, My deferment will end on the, Unless I am a Peace Corps, for an Economic Hardship Deferment, My loan holder may grant me a, and exists when I submit my form segment needs to be applied to provide the rights or responsibilities of both sides.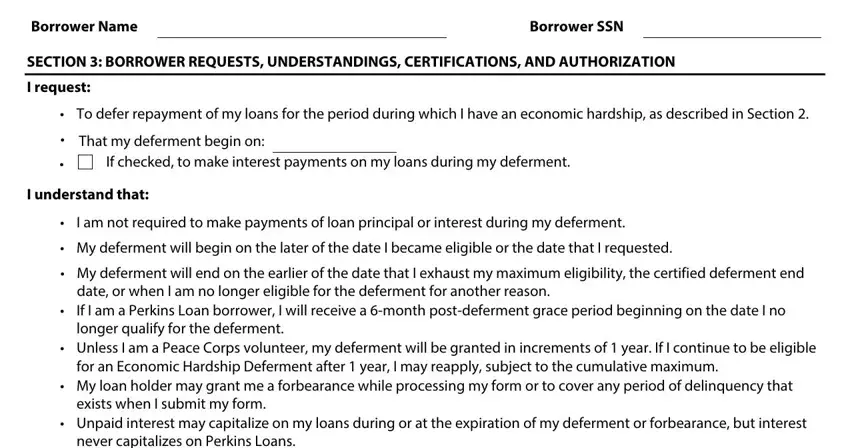 Finish by looking at these areas and filling out the relevant data: I authorize the entity to which I, Borrowers Signature, Date, SECTION INSTRUCTIONS FOR, Type or print using dark ink Enter, SECTION DEFINITIONS, The William D Ford Federal Direct, The Federal Family Education Loan, and The Federal Perkins Loan Perkins.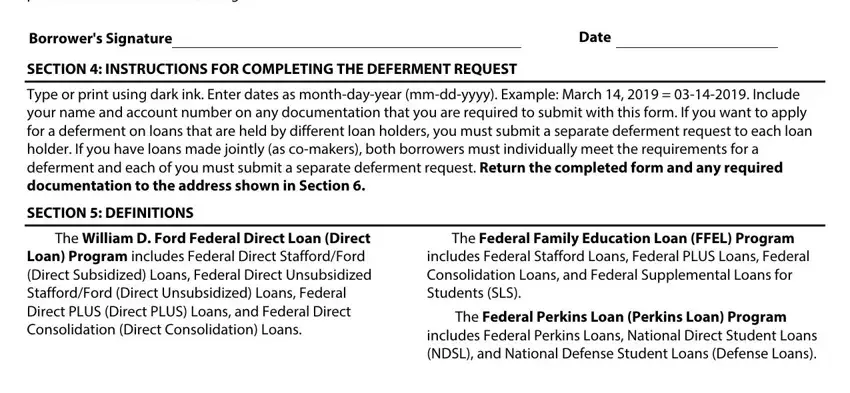 Step 3: When you have selected the Done button, your file should be ready for transfer to every gadget or email address you specify.
Step 4: Come up with a duplicate of each single document. It will save you some time and help you avoid concerns in the future. Also, your details isn't distributed or analyzed by us.