You can certainly fill out forms using our PDF editor. Revising the 47C form is a breeze in case you adhere to the next steps:
Step 1: The first thing is to hit the orange "Get Form Now" button.
Step 2: The instant you access the 47C editing page, you will find lots of the options it is possible to undertake about your form in the top menu.
Prepare the 47C PDF by providing the data needed for each part.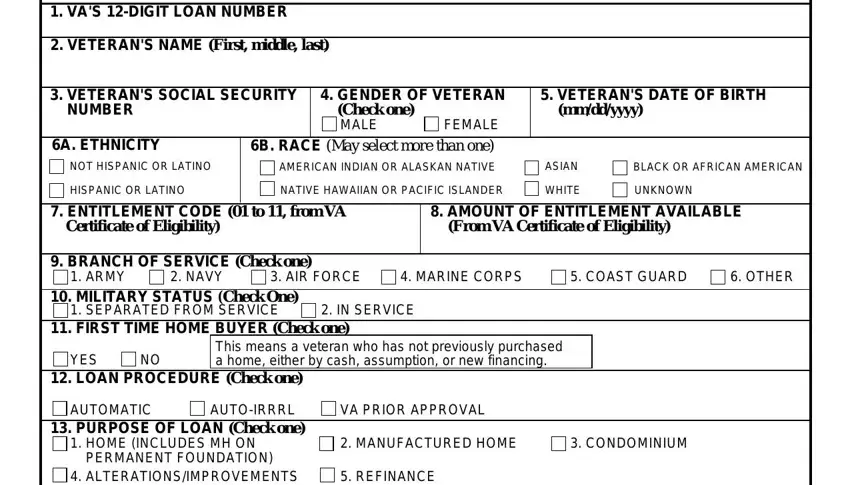 Complete the HOME INCLUDES MH ON PERMANENT, REFINANCE, LOAN CODE Check one, PURCHASE, IRRRL STREAMLINE REFINANCE, REGULAR Cashout REFINANCE, MANUFACTURED HOME REFINANCE, REFINANCING OF CONSTRUCTION LOAN, PRIOR LOAN TYPE Note Must be, CONVENTIONALFIXED, FHAARMHARM, FHAFIXED, CONVENTIONALINTEREST ONLY TYPE, VAFIXED, and VAARMHARM fields with any particulars that will be required by the program.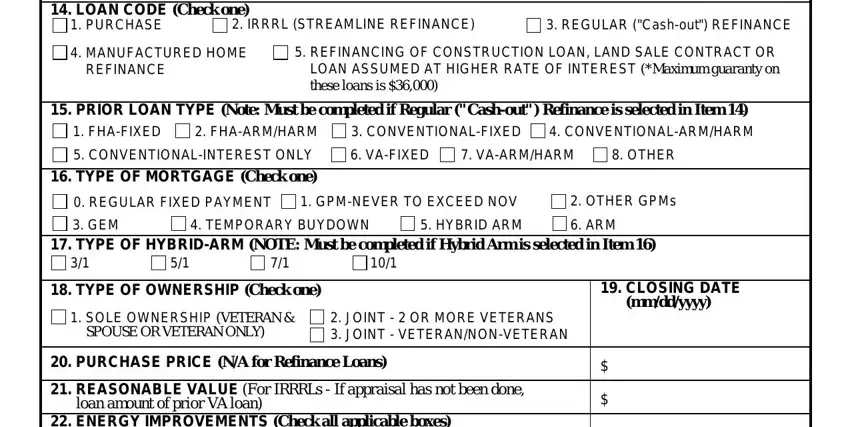 Note the appropriate data as you are within the REASONABLE VALUE For IRRRLs If, NONE, REPLACEMENT OF A MAJOR SYSTEM, INSULATION CAULKING, INSTALLATION OF SOLAR, ADDITION OF A NEW FEATURE, OTHER IMPROVEMENTS, LOAN AMOUNT, Purchase Purchase Price or RV, PROPERTY TYPE Check one, NEITHER, PUD, CONDOMINIUM, APPRAISAL TYPE Check one, and IND SINGLE PROPERTYIND APPRAISAL area.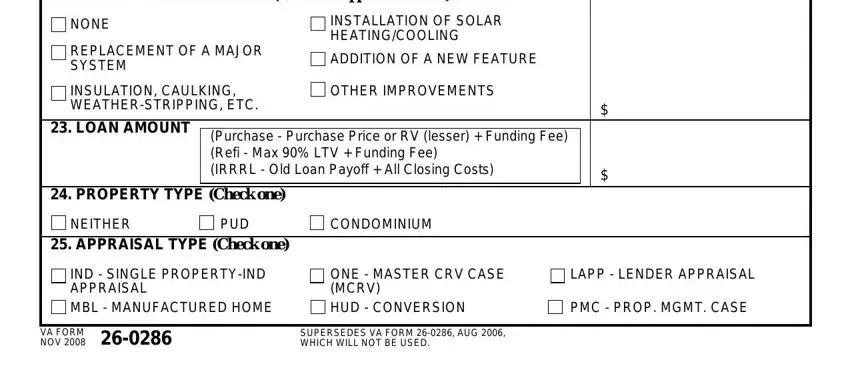 In part TYPE OF STRUCTURE Check one, CONVENTIONAL CONSTRUCTION MH LOT, SINGLEWIDE MH, DOUBLEWIDE MH, PREFABRICATED HOME, CONDOMINIUM CONVERSION, PROPERTY DESIGNATION Check one, NO OF UNITS Check one, APPRAISED AS PROPOSED, MCRV NO, SINGLE, TWO UNITS, THREE UNITS, FOUR OR MORE, and MANUFACTURED HOME CATEGORY Check, indicate the rights and obligations.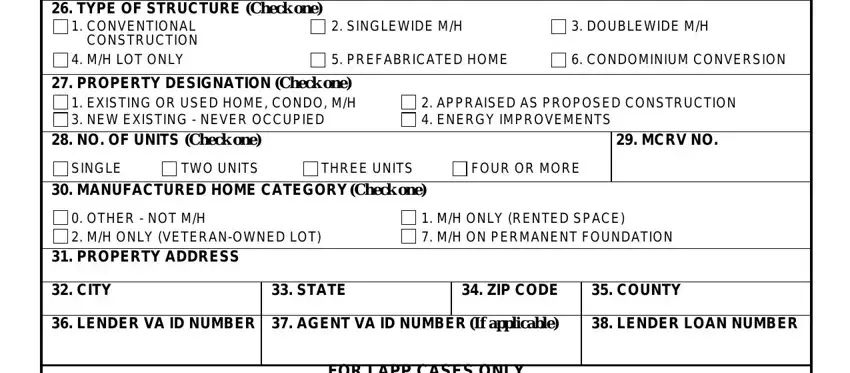 End by looking at the next areas and typing in the appropriate particulars: LENDER SAR ID NUMBER, FOR LAPP CASES ONLY, GROSS LIVING AREA Square Feet, AGE OF PROPERTY Yrs, DATE SAR ISSUED NOTIFICATION OF, TOTAL ROOM COUNT, BATHS No, BEDROOMS No, IF PROCESSED UNDER LAPP WAS THE, YES, If Yes there must be written, INCOME INFORMATION Not Applicable, A LOAN PROCESSED UNDER VA, YES, and B WHICH SYSTEM WAS USED.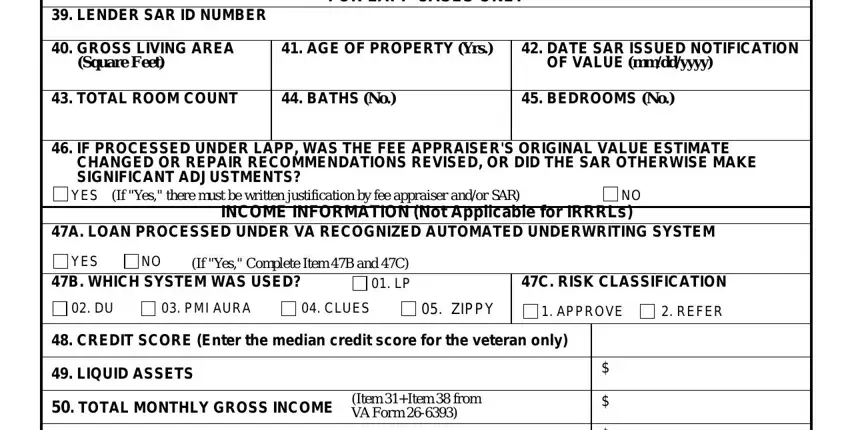 Step 3: As soon as you are done, hit the "Done" button to upload your PDF document.
Step 4: To avoid any specific issues in the long run, be sure to get no less than two or three copies of the document.