The PDF editor was built to be so simple as it can be. Once you comply with the following actions, the procedure for completing the form 15g form will be hassle-free.
Step 1: First, choose the orange "Get form now" button.
Step 2: So you will be on your form edit page. It's possible to add, transform, highlight, check, cross, add or remove fields or text.
The next segments are included in the PDF document you will be creating.
Provide the requested data in the Class of shares & face value of, share, Total value of shares, Distinctive numbers of the shares, Date, s on which the shares were, de, clara, nt, dd, mm, yyyy (Details of the securities held in, SCHEDULE, II Description of, securities, Number of securities, Amount of securities, Date, s of securities, dd, mm, yyyy Date, s on which the securities, (Details of the sums given by the, SCHEDULE, III Name and address of the, person to whom the sums are, given on interest, Amount of sums given on interest, Date on which the sums were given, Period for which sums were, interestdd, mm, yyyy given on interest, Rate of interest, (Details of the mutual fund units, Name and address of the, Number of, Class of units and face value of, mutual fund, units, unit, Distinctive number of units, Income in respect of, units, and SCHEDULE, IV section.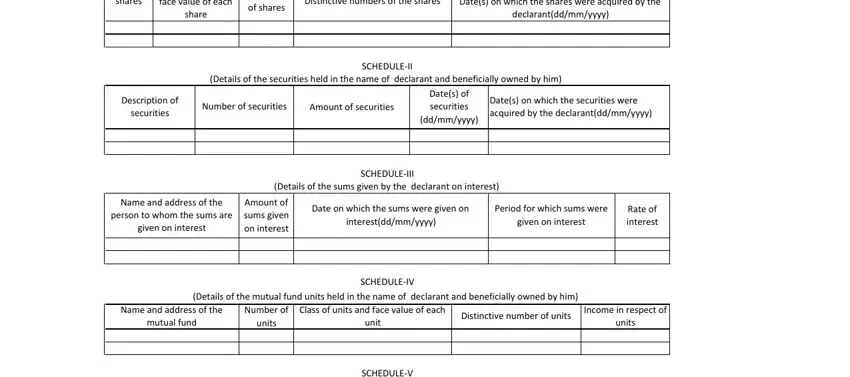 Outline the necessary particulars in the is maintained and the account, Date on which the account was, and account segment.

The space I, We, do hereby declare, Place: Date:, Signature of the De, clara, nt [For use by the person to whom the, and PART II will be where you include both sides, ' rights and obligations.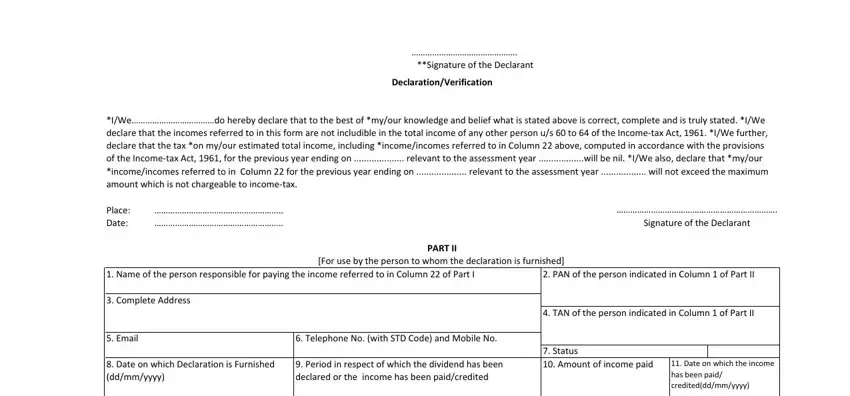 Finish by analyzing the next sections and filling them out as needed: Forwarded to the Chief, Place: Date:, Signature of the person, Notes:, The declaration should be, In a case where tax sought to be, ii), In any other case, and The person responsible for paying.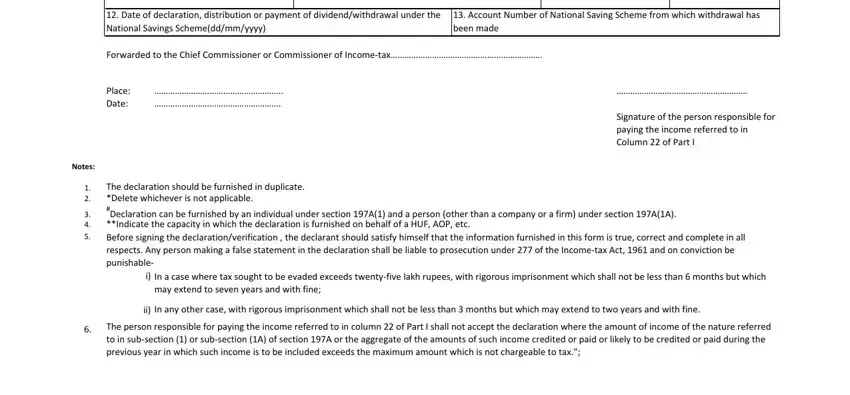 Step 3: If you're done, click the "Done" button to export your PDF file.
Step 4: Make copies of your form - it will help you remain away from forthcoming troubles. And don't get worried - we do not reveal or check your information.