It's easy to fill in the fire watch inspection form form using this PDF editor. The following steps will assist you to immediately get your document ready.
Step 1: The initial step will be to choose the orange "Get Form Now" button.
Step 2: Now you can update the fire watch inspection form. The multifunctional toolbar lets you insert, erase, adapt, and highlight content or conduct similar commands.
To be able to create the file, type in the information the program will request you to for each of the appropriate parts: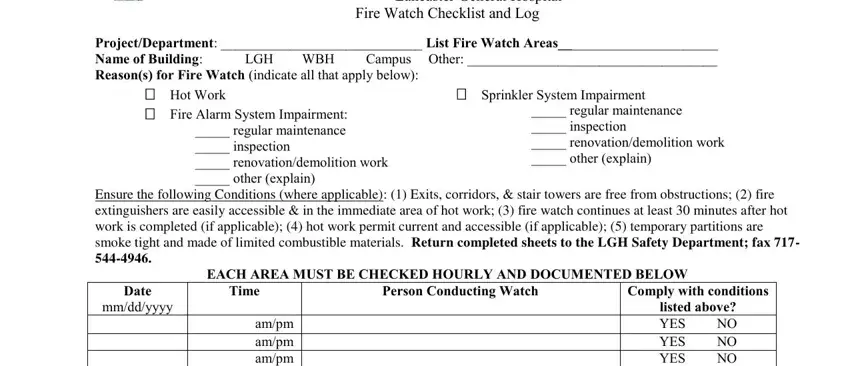 Jot down the information in ampm ampm ampm ampm ampm ampm ampm, Comply with conditions listed, Fire watch procedure, Patrol your designated area, o Enter all stairwells open doors, and Document completion of rounding.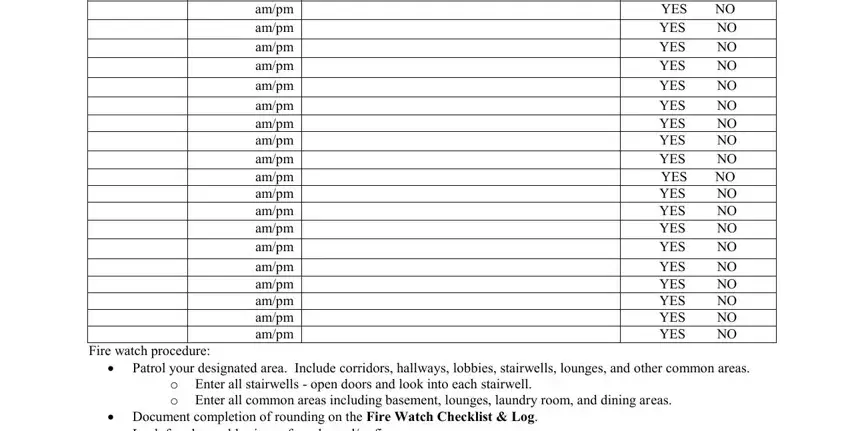 Indicate the crucial information in Document completion of rounding, Pull the nearest fire alarm pull, o Cell Phone o, Internal extensions, Do not put yourself in jeopardy, Revised PM, LGH, Health Campus WBH, and Satellites part.

Step 3: Hit the button "Done". Your PDF form can be exported. It is possible to upload it to your laptop or email it.
Step 4: Prepare duplicates of your template. This will save you from possible issues. We do not look at or share your data, thus feel comfortable knowing it will be protected.