The filling out the fillable first report of injury form florida is actually quick. Our team ensured our software is not difficult to work with and helps complete any sort of form in no time. Take a look at a couple of steps you'll want to take:
Step 1: Press the "Get Form Now" button to start out.
Step 2: Now you will be within the form edit page. You can add, transform, highlight, check, cross, include or erase fields or text.
Type in the content requested by the application to prepare the document.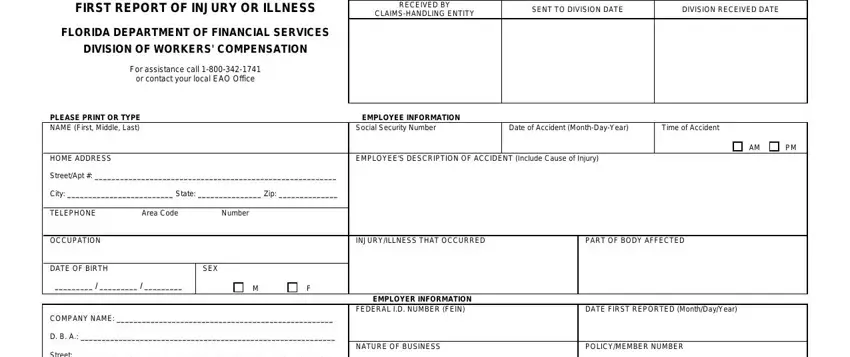 Include the essential details in the YES, EMPLOYERS, LOCATION, ADDRESS, If, different Street, City, State, Zip LOCATION, If, applicable LAST, DATE, EMPLOYEE, WORKED RETURNED, TO, WORK, IF, YES, GIVE, DATE YES, YES, DATE, OF, DEATH, If, applicable RATE, OF, PAY PER, DAY, PLACEOFACCIDENTStreetCity, State, Zip and Street segment.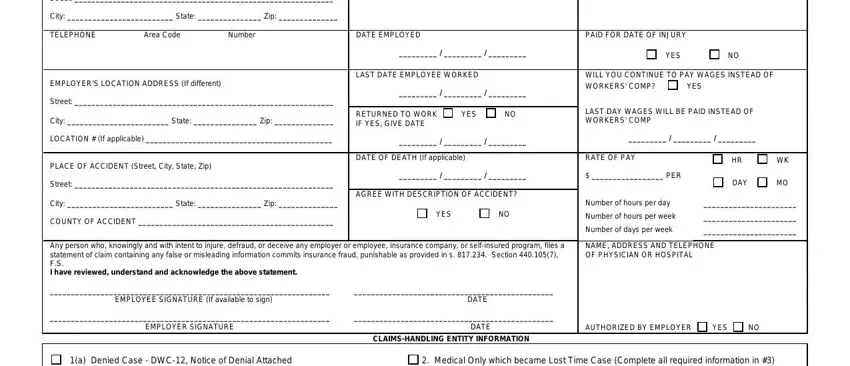 In the Date, First, Payment, Mailed, A, WW, Comp, Rate DEATH, SETTLEMENT, ONLY REMARKS, INSURER, NAME INSURER, CODE EMPLOYEES, CLASS, CODE EMPLOYERS, NAIC, S, CODE SERVICE, COT, PACO, DE CLAIMS, HANDLING, ENTITY, FILE and Form, D, FSF, DW, C, Rule, L, FAC segment, point out the crucial information.

Step 3: Hit the Done button to save the document. At this point it is ready for upload to your gadget.
Step 4: Try to create as many duplicates of your form as you can to keep away from potential problems.