The whole process of filling out the Fl 303 Form is actually comparatively effortless. We ensured our editor is not difficult to utilize and helps prepare just about any PDF within minutes. Take a look at a few simple steps you will need to take:
Step 1: Find the button "Get Form Here" on the site and select it.
Step 2: At the moment you're on the file editing page. You can modify and add information to the document, highlight words and phrases, cross or check certain words, include images, insert a signature on it, erase unrequired areas, or remove them altogether.
Complete the particular areas to fill out the document: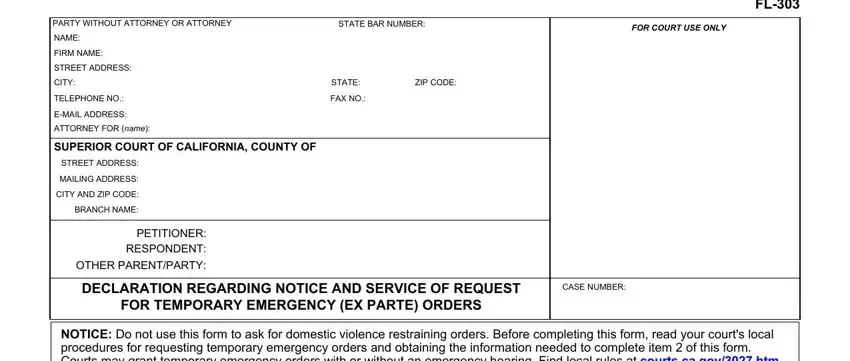 Type in the expected particulars in the box Iamspecify, attorneyfornotapartyinthecase, petitioner, respondent, otherparentparty, nameandtitlerelationshiptoparty, did, didnot, givenoticeselectallthatapply, Date, Time, Dept, Room, Addressofcourt, and sameasnotedabove.
The software will require particulars to easily fill up the box byvoicemail, usingvoicemailno, byelectronicmeansifpermitted, Igavenoticeselectone, FORTEMPORARYEMERGENCYEXPARTEORDERS, and Pageof.

The Thepersoninarespondedasfollows, Attachmenta, donot, Attachmentb, and Attachmentc segment may be used to point out the rights and responsibilities of both parties.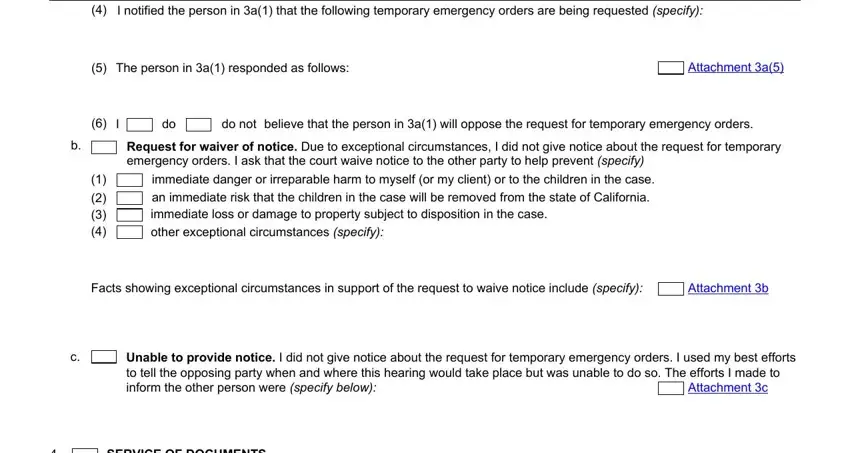 Look at the fields Attachmentc, SERVICEOFDOCUMENTS, Thefollowingdocumentswereservedon, petitionerrespondent, otherparentpartychildsattorney, otherparentspartysattorney, other, specify, Otherdocuments, specify, Documentswereservedon, date, personally, byfaxon, and atlocation and then fill them in.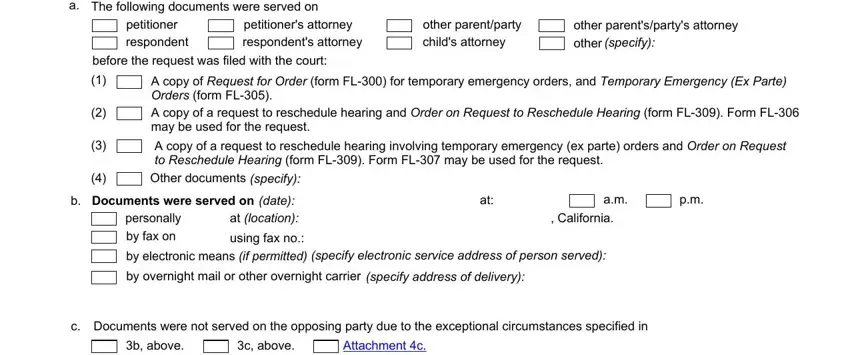 Step 3: Choose the Done button to save your document. Now it is readily available for transfer to your gadget.
Step 4: Come up with a duplicate of every document. It's going to save you some time and allow you to stay clear of misunderstandings down the road. Keep in mind, your data is not revealed or monitored by us.