The PDF editor you will use was made by our finest web programmers. You may create the ca abduction orders form immediately and effortlessly using this software. Merely adhere to the following guideline to get going.
Step 1: To start with, click the orange "Get form now" button.
Step 2: When you have entered the editing page ca abduction orders, you should be able to notice all of the functions readily available for the document at the top menu.
Create the next sections to complete the file: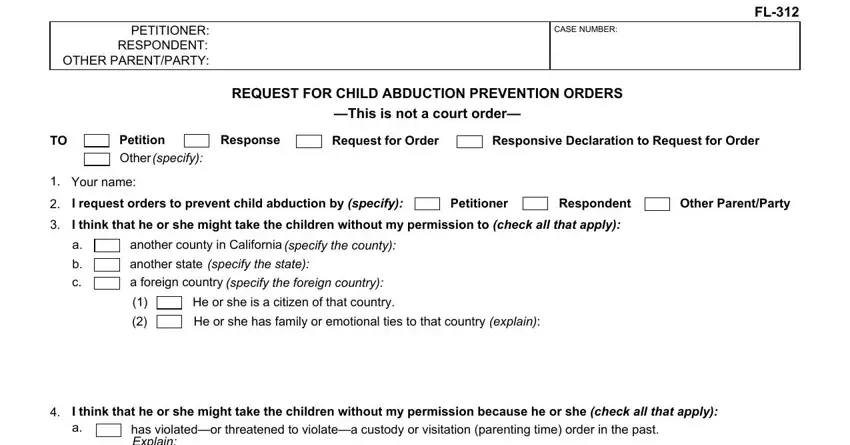 Enter the necessary particulars in has violated, or threatened to, does not have strong ties to, has recently done things that make, quit his or her job, sold his or her home, sold or gotten rid of assets, hidden or destroyed documents, applied for a passport, and has a history of (check all that box.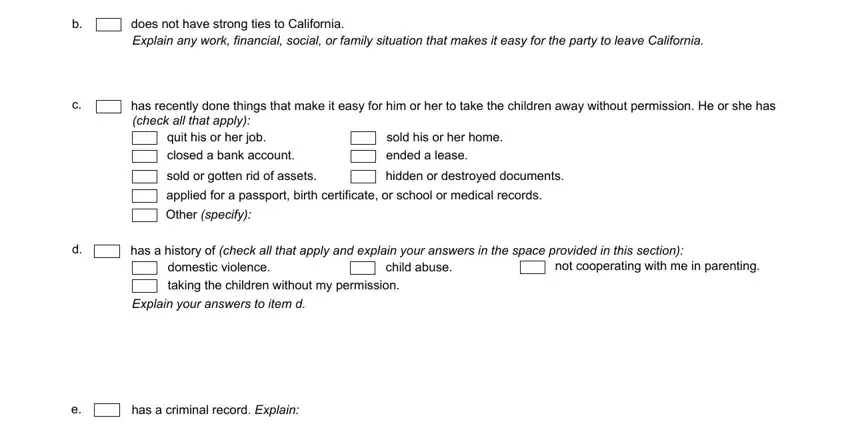 Put together the significant data in the domestic violence, Explain your answers to item d, has a criminal record, Form Adopted for Mandatory Use, REQUEST FOR CHILD ABDUCTION, Page 1 of 2, and Family Code area.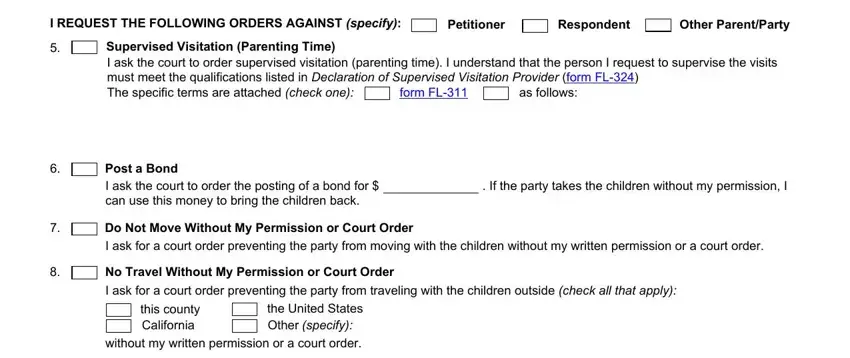 The Supervised Visitation (Parenting, form FL, 311 as follows:, Post a Bond I ask the court to, Do Not Move Without My Permission, No Travel Without My Permission or, I ask for a court order preventing, this county California, the United States Other, (specify):, without my written permission or a, Notify Other State of Travel, and and provide the field is where all sides can insert their rights and obligations.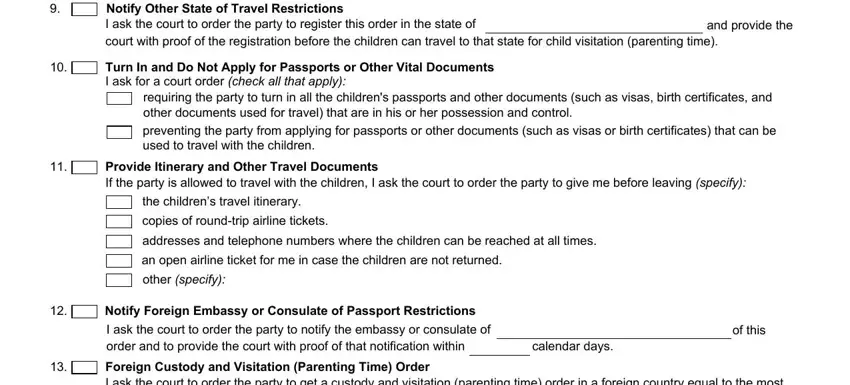 Finalize the form by reviewing these sections: an open airline ticket for me in, Notify Foreign Embassy or, I ask the court to order the party, calendar days, of this, Foreign Custody and Visitation, Other (specify):, I declare under penalty of perjury, Date:, FL, 312 [Rev, REQUEST FOR CHILD ABDUCTION, Page 2 of 2, and (SIGNATURE ).

Step 3: When you click the Done button, your finalized file may be exported to each of your gadgets or to electronic mail chosen by you.
Step 4: It's going to be more convenient to maintain duplicates of the form. You can rest assured that we are not going to display or read your particulars.