Whenever you wish to fill out carryout, there's no need to download any sort of software - simply try our PDF tool. The editor is consistently updated by our team, acquiring handy features and turning out to be a lot more convenient. By taking some easy steps, you are able to begin your PDF editing:
Step 1: Hit the "Get Form" button above. It will open up our tool so you could begin completing your form.
Step 2: This editor enables you to customize PDF files in many different ways. Modify it by writing your own text, adjust what is originally in the PDF, and add a signature - all within a couple of clicks!
Concentrate while filling in this pdf. Make sure that all necessary blank fields are done correctly.
1. When completing the carryout, be sure to include all of the needed blank fields in the relevant section. This will help hasten the work, allowing for your information to be handled without delay and accurately.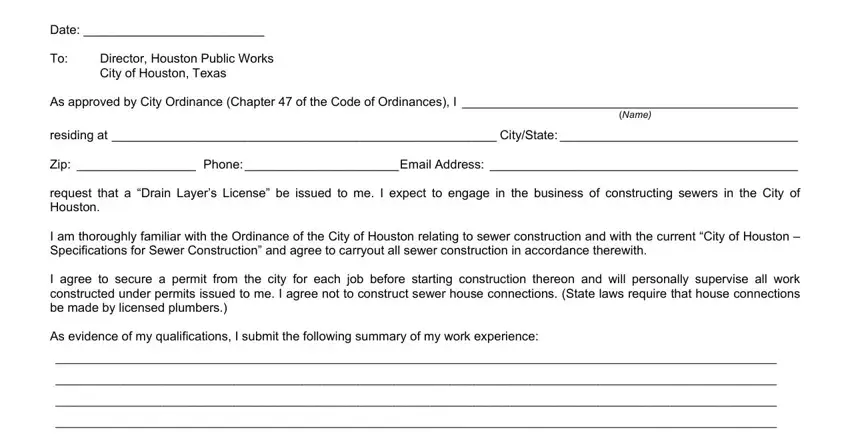 2. The next step would be to complete these particular blank fields: Name, Address, Phone, Applicants Signature Annual, Administrative Fee, ID Verified, CSR, Expiration Date, FOR OFFICE USE ONLY, HoustonPermittingCenterorg, and revised January Form CE.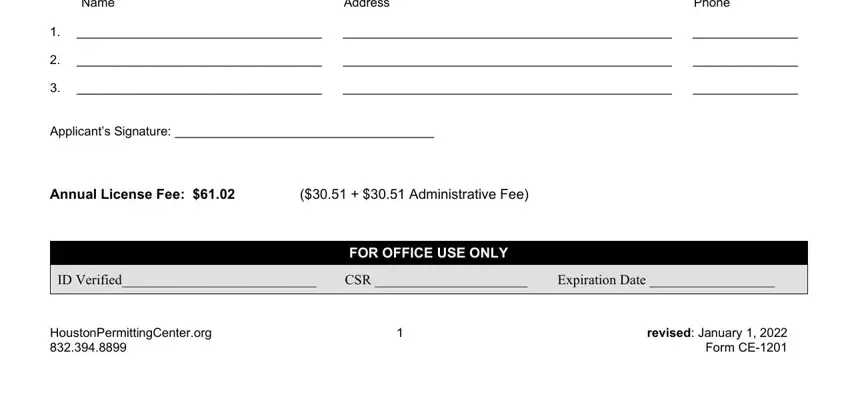 People generally make mistakes when filling out Expiration Date in this area. Be certain to go over everything you type in right here.
Step 3: Revise what you have entered into the form fields and then click the "Done" button. Try a 7-day free trial subscription with us and get direct access to carryout - download or edit inside your personal cabinet. FormsPal is focused on the privacy of our users; we ensure that all information handled by our system is kept secure.