In case you desire to fill out Form Il 1041 X, you won't need to install any sort of programs - simply try using our online tool. Our editor is constantly evolving to grant the very best user experience attainable, and that's thanks to our dedication to constant development and listening closely to feedback from customers. With a few easy steps, you can start your PDF editing:
Step 1: Open the PDF file in our editor by pressing the "Get Form Button" above on this webpage.
Step 2: When you start the PDF editor, you will get the document prepared to be filled out. Apart from filling out different blank fields, it's also possible to perform other actions with the PDF, such as adding any words, modifying the original textual content, inserting images, placing your signature to the form, and a lot more.
In order to complete this PDF form, make sure that you provide the right details in every single field:
1. Whenever completing the Form Il 1041 X, be certain to include all needed fields in their corresponding form section. It will help hasten the process, which allows your information to be processed promptly and accurately.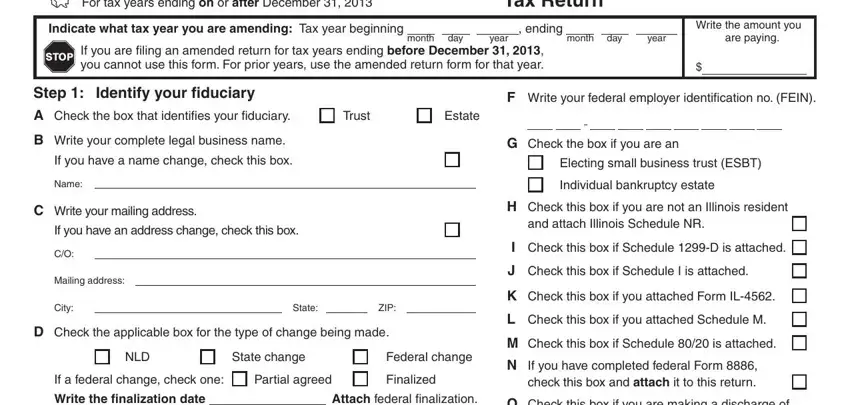 2. Once the first part is filled out, go to type in the relevant details in these - net loss on Line Column B, E Check this box if you are filing, Step Explain the changes on this, Step Figure your income or loss, Beneficiaries, As most recently, reported or adjusted, O Check this box if you are making, indebtedness adjustment on Line or, d n a t n e m y a p r u o y h c a, e r e h V X L m r o F, US Form Line, from US Form Line b This amount, Federal taxable income from, and Schedules KP or KT.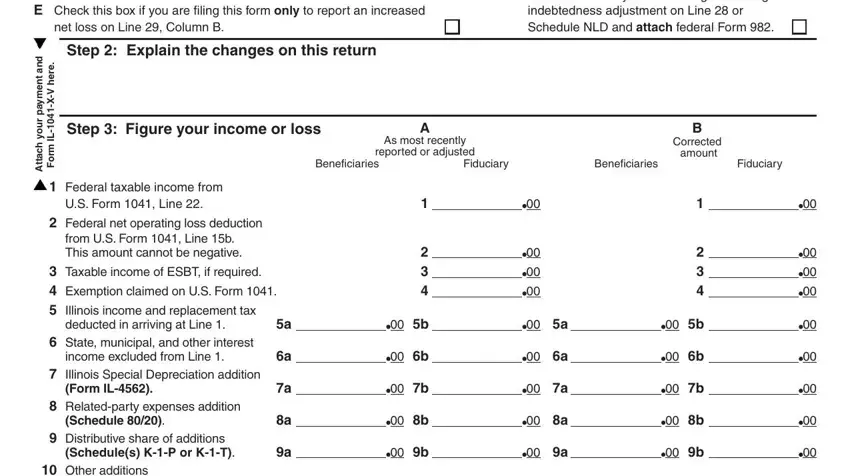 Always be extremely attentive when filling in O Check this box if you are making and from US Form Line b This amount, since this is where a lot of people make some mistakes.
3. The next section should also be quite easy, Federal taxable income from, Schedule M for businesses, through b This is your total, ILX R, This form is authorized as, and Page of - each one of these blanks needs to be filled out here.

4. This particular section comes next with the next few fields to consider: Write the amounts from Line, Beneficiaries, reported or adjusted, Fiduciary, Beneficiaries, Corrected amount, Fiduciary, plans, partners, amount Schedule F, and other exempt federal, Zone Dividend subtraction Schedule, Step Figure your base income or, Schedules KP or KT, and subtraction Schedule.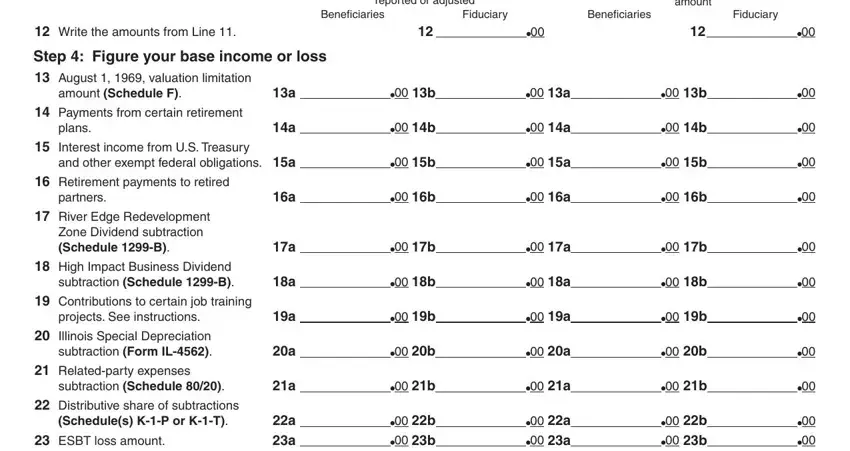 5. Because you draw near to the completion of your document, you will find a couple more things to undertake. Mainly, Step Figure your base income or, Add Lines b through b See, Subtract Line from Line, If you are a nonresident of, Step Figure your net income, Base income or net loss from Line, if you are a nonresident from, Discharge of indebtedness, Adjusted base income or net loss, Illinois net loss deduction, If Line is zero or a negative, Standard exemption, Residents only Write Nonresidents, Add Lines and, and Net income Subtract Line from must be filled in.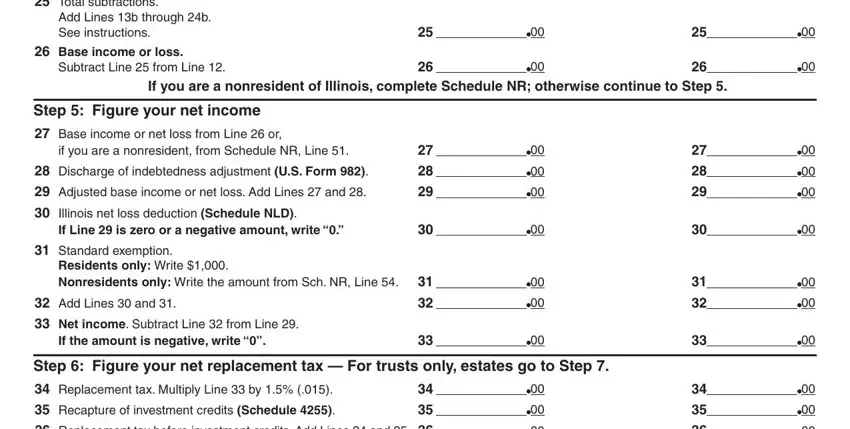 Step 3: Go through all the information you have inserted in the form fields and press the "Done" button. Join FormsPal right now and instantly gain access to Form Il 1041 X, available for download. Every single change you make is conveniently saved , helping you to edit the document further if needed. FormsPal offers secure document tools without data record-keeping or any sort of sharing. Be assured that your data is in good hands here!