In case you want to fill out Form Il 1065 X, you won't have to install any kind of software - just give a try to our PDF editor. The tool is consistently maintained by us, receiving handy functions and growing to be greater. This is what you will have to do to get started:
Step 1: Just hit the "Get Form Button" at the top of this site to launch our pdf file editor. This way, you'll find everything that is needed to fill out your file.
Step 2: When you launch the tool, you will get the form prepared to be filled out. In addition to filling out different blank fields, you may as well perform other actions with the Document, specifically adding custom textual content, editing the original text, inserting graphics, placing your signature to the PDF, and a lot more.
It is simple to complete the document with our detailed guide! Here is what you have to do:
1. Fill out your Form Il 1065 X with a number of major fields. Get all the important information and ensure there's nothing forgotten!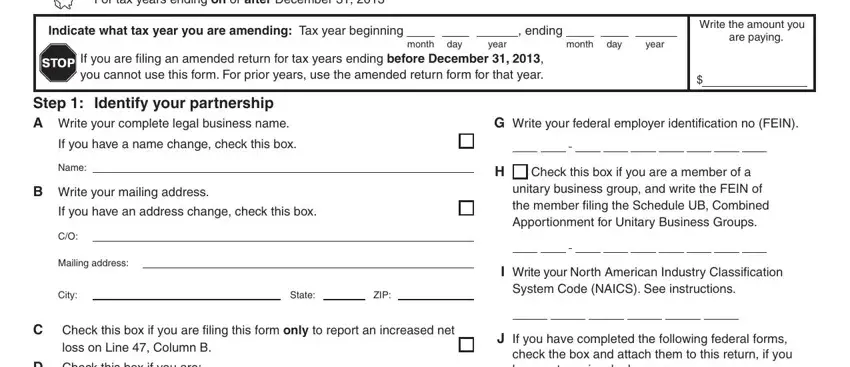 2. Right after filling out the last section, head on to the subsequent part and enter the necessary details in these blanks - C Check this box if you are filing, classified as an investment, Check the applicable box for the, NLD, State change, Federal change, If a federal change check one, Partial agreed, Finalized, Write the finalization date, Attach your federal finalization to, Check this box if you are filing, J If you have completed the, check the box and attach them to, and Federal Form.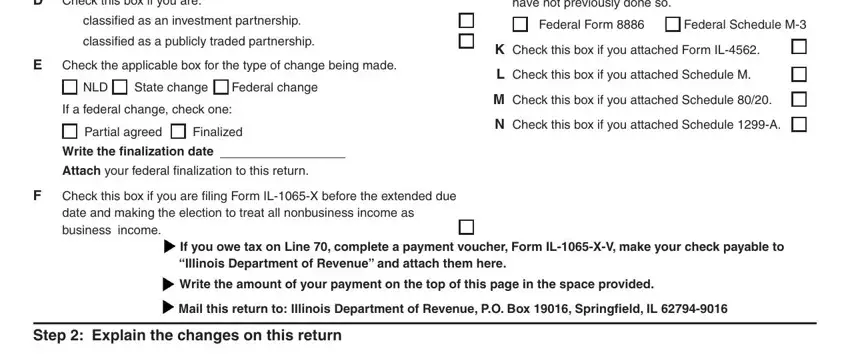 3. This 3rd segment is fairly simple, Step Figure your ordinary income, income or loss on Page of US Form, As most recently reported or, B Corrected amount, Step Figure your unmodified base, ordinary income or loss on Page, base income or total loss, and Step Figure your income or loss - each one of these form fields will have to be filled in here.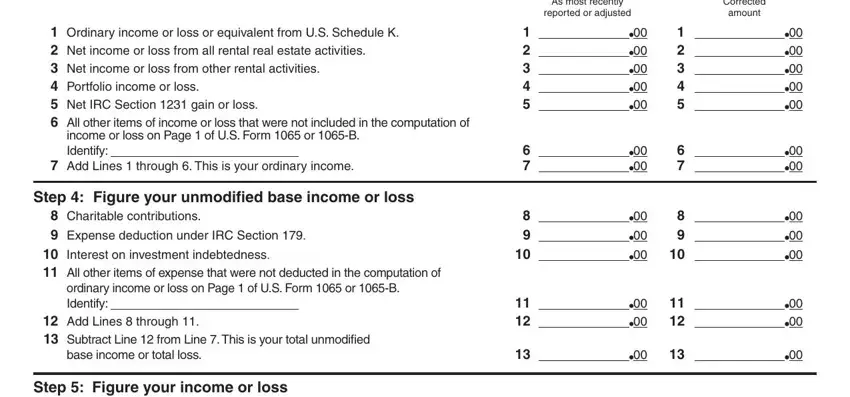 In terms of B Corrected amount and ordinary income or loss on Page, ensure that you double-check them in this current part. Both of these could be the key fields in this document.
4. This fourth paragraph arrives with these blank fields to fill out: Write the amounts from Line, replacement tax Schedule B, compensation of partners, replacement tax Schedule B, and Step Figure your base income or.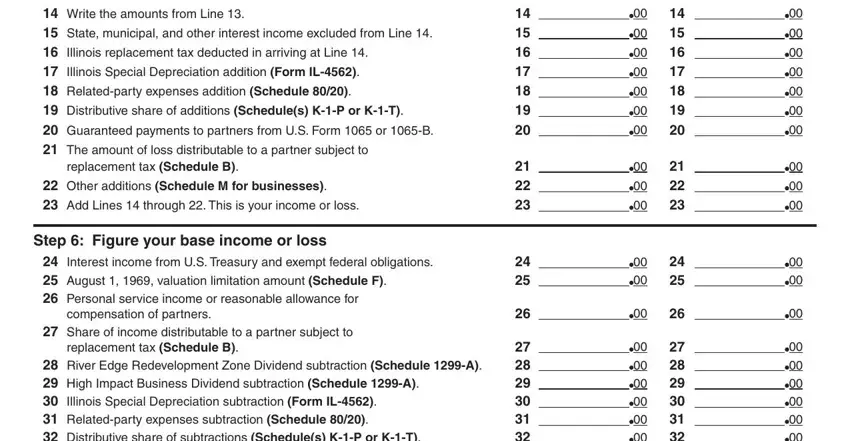 5. The final notch to conclude this document is essential. Ensure to fill in the displayed fields, for instance Step Figure your base income or, A If the amount on Line is, on Step Line You may not, B If any portion of the amount on, See instructions If you are a, Page of, and ILX R, prior to submitting. Neglecting to do this could give you a flawed and potentially incorrect document!

Step 3: Go through the information you have entered into the blanks and then hit the "Done" button. Make a 7-day free trial option with us and acquire immediate access to Form Il 1065 X - download or edit inside your personal account page. When you use FormsPal, you can certainly fill out documents without stressing about personal data breaches or data entries being distributed. Our secure software ensures that your personal details are maintained safely.