When you need to fill out lic transfer request form, there's no need to download and install any kind of software - just use our PDF editor. We are devoted to making sure you have the perfect experience with our editor by consistently introducing new functions and upgrades. Our editor has become even more user-friendly as the result of the newest updates! At this point, working with PDF documents is simpler and faster than ever before. For anyone who is looking to get going, here is what it will require:
Step 1: First of all, access the tool by pressing the "Get Form Button" above on this site.
Step 2: The tool gives you the opportunity to customize PDF forms in a variety of ways. Change it with your own text, adjust what's already in the file, and add a signature - all within several mouse clicks!
Completing this document will require thoroughness. Ensure each blank field is filled in accurately.
1. Complete the lic transfer request form with a group of essential blanks. Gather all of the information you need and be sure there is nothing forgotten!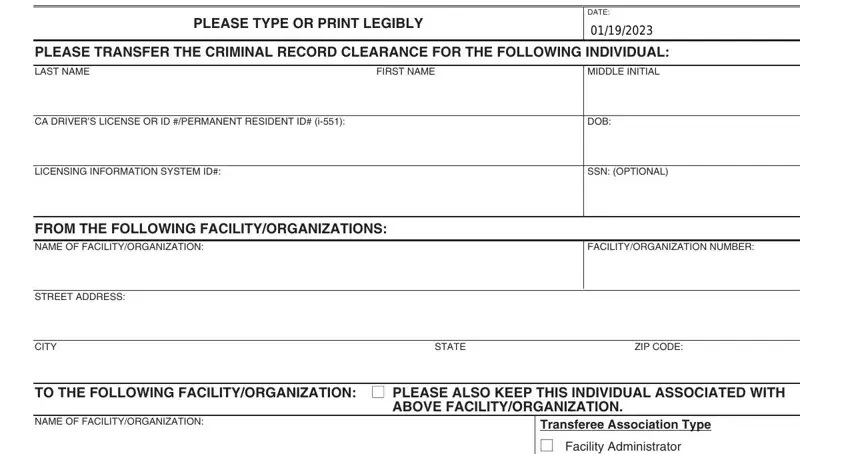 2. Immediately after the last array of fields is done, proceed to type in the applicable information in all these - FACILITYORGANIZATION NUMBER, DATE OF EMPLOYMENT, STREET ADDRESS, CITY, STATE, ZIP CODE, Facility Administrator, I certify I have verified the, Title licensee administrator, Signature, DATE OF TRANSFER ENTRY, INITIAL OF PERSON ENTERING TRANSFER, FOR DISTRICT OFFICE USE ONLY, LIC, and FILE IN NEWLY ASSOCIATED.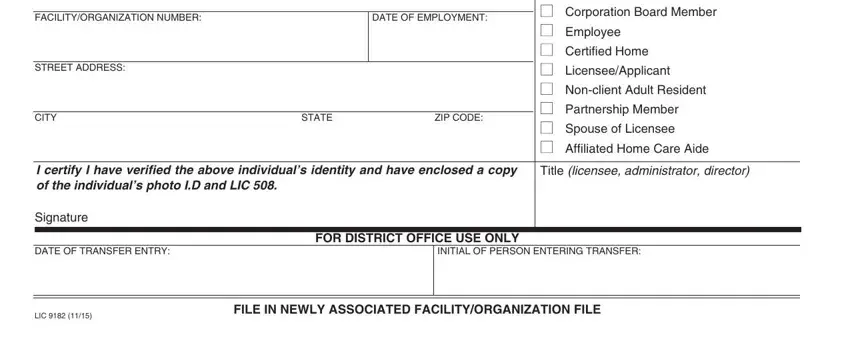 People frequently make errors while completing CITY in this section. Ensure you review everything you type in here.
Step 3: Always make sure that the details are correct and click on "Done" to continue further. Create a free trial plan with us and acquire instant access to lic transfer request form - download or modify in your personal account page. FormsPal provides protected document editor devoid of data recording or any type of sharing. Feel safe knowing that your details are safe here!