Writing the guardian dental claim form form is simple with this PDF editor. Stick to these steps to prepare the document right away.
Step 1: The webpage includes an orange button saying "Get Form Now". Click it.
Step 2: At this point, it is possible to change the guardian dental claim form. Our multifunctional toolbar helps you include, get rid of, transform, highlight, as well as undertake similar commands to the content material and areas inside the file.
Fill in the guardian dental claim form PDF by entering the data meant for each part.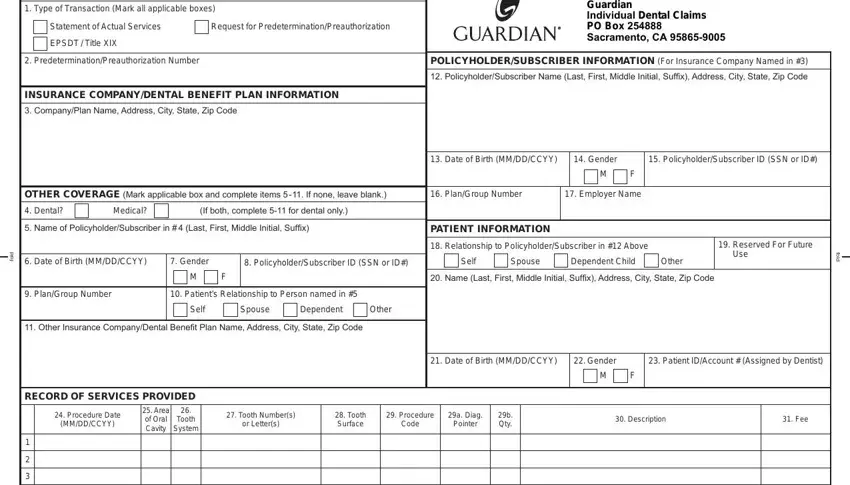 Remember to fill in the Missing Teeth Information Place, Diagnosis Code List Qualifier, ICD B ICD AB, a Diagnosis Codes, Primary diagnosis in A, a Other Fees, Total Fee, d o f, Remarks, AUTHORIZATIONS, I have been informed of the, charges for dental services and, X PatientGuardian Signature Date, f o d, and ANCIllARy ClAImTREATmENT box with the requested data.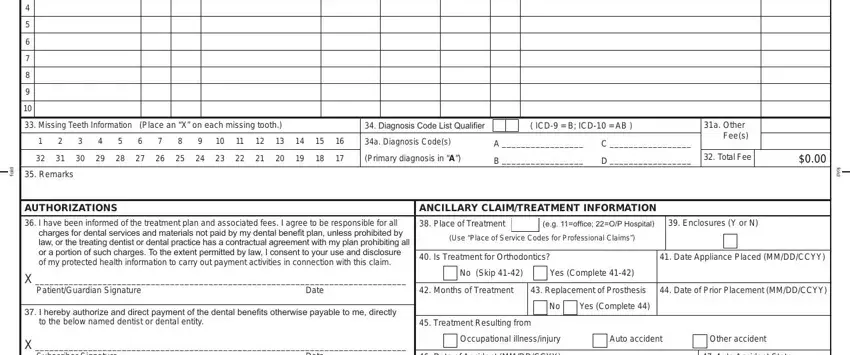 You may be asked to write down the information to let the system complete the segment BIllINg DENTIST OR DENTAl ENTITy, Name Address City State Zip Code, I hereby certify that the, multiple visits or have been, X Signed Treating Dentist Date, NPI, Address City State Zip Code, License Number, a Provider Specialty Code, NPI, License Number, SSN or TIN, Phone, Number, and a Additional Provider ID.

Step 3: Hit the "Done" button. Next, it is possible to transfer the PDF file - download it to your electronic device or send it by using email.
Step 4: You should make as many copies of your document as possible to avoid possible misunderstandings.