Working with PDF files online is surprisingly easy with this PDF tool. You can fill in Imrf Form 6 11 here painlessly. In order to make our editor better and less complicated to work with, we consistently implement new features, bearing in mind feedback coming from our users. With some basic steps, you'll be able to begin your PDF journey:
Step 1: Just hit the "Get Form Button" at the top of this page to get into our pdf editor. Here you will find all that is necessary to work with your document.
Step 2: The editor provides the capability to work with PDF files in various ways. Modify it by writing personalized text, adjust what is already in the file, and include a signature - all within a few mouse clicks!
When it comes to blanks of this precise PDF, this is what you should know:
1. Complete the Imrf Form 6 11 with a selection of major blank fields. Collect all the information you need and ensure there's nothing neglected!

2. After completing the last part, head on to the next stage and enter all required particulars in all these blank fields - .

Be really mindful when filling in this field and next field, since this is where a lot of people make mistakes.
3. Completing Employee Name, Mailing Address street address, Social Security Number, Birthdate MMDDYYYY, Daytime Telephone No, Marital Status, Gender of Spouse, Never Married Married Civil Union, Widowed, Spouses Last Name First Name, Male, Female, Primary Beneiciaryies For your, Social Security Number, and Relationship is essential for the next step, make sure to fill them out in their entirety. Don't miss any details!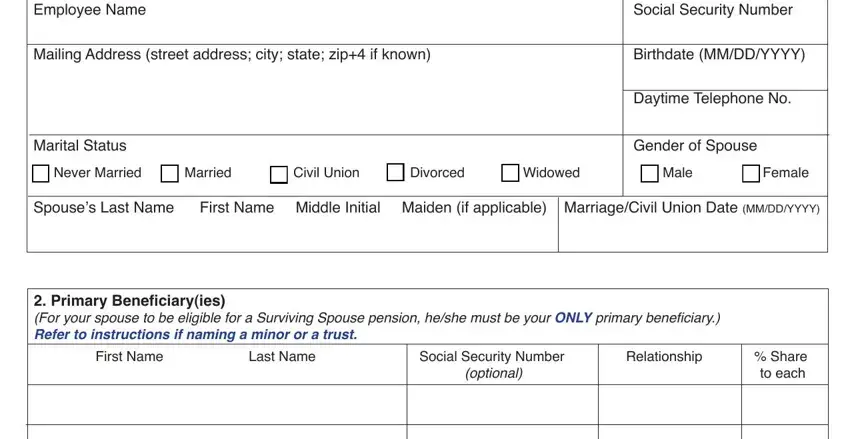 4. The form's fourth subsection comes with these particular empty form fields to fill out: Important If the total of all, TOTAL, Secondary Beneiciaryies Will, Social Security Number, Last Name, Relationship, optional, Share to each, Important If the total of all, TOTAL, Signature write do not type or, Form will not be accepted if, and Date.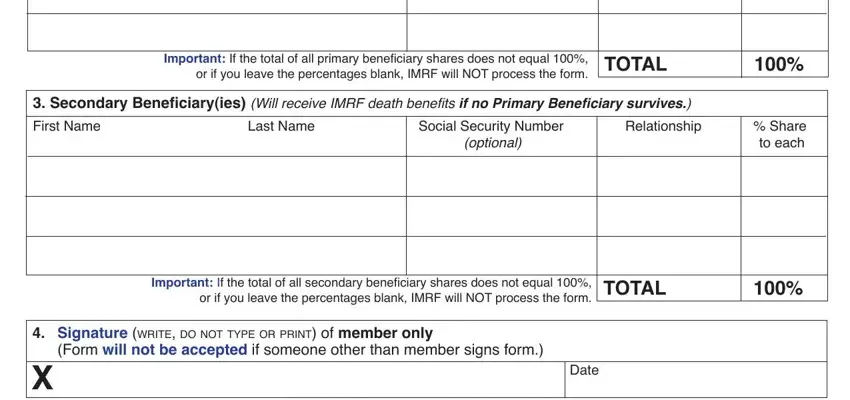 5. While you get close to the end of your form, there are just a few more things to undertake. In particular, IMRF Form Rev, Completed form may be mailed to, and York Road Suite Oak Brook IL must all be done.

Step 3: Immediately after looking through your fields you've filled out, click "Done" and you are good to go! Find your Imrf Form 6 11 after you subscribe to a free trial. Easily use the pdf file inside your personal cabinet, with any edits and adjustments being conveniently synced! At FormsPal, we do our utmost to guarantee that all your information is stored secure.