It won't be hard to get jud 100 judgment online working with our PDF editor. This is the way you could effortlessly create your file.
Step 1: Initially, select the orange "Get form now" button.
Step 2: The file editing page is right now available. You can add information or edit existing information.
In order to prepare the jud 100 judgment online PDF, provide the details for each of the parts: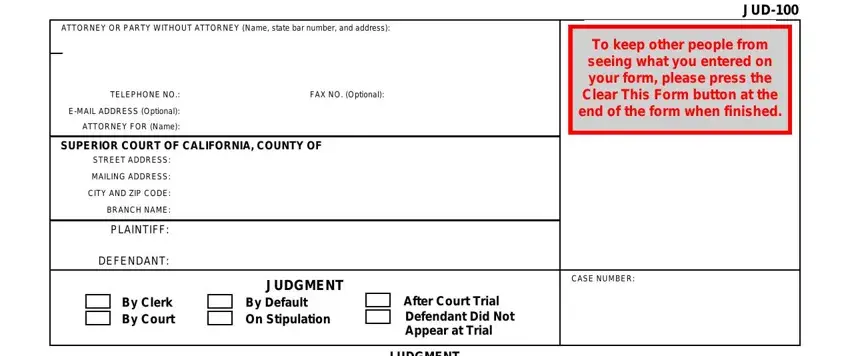 You have to note the required data in the JUDGMENT, BY DEFAULT a b c d, Defendant was properly served with, Clerks Judgment Code Civ Proc a, Court Judgment Code Civ Proc b, plaintiffs testimony and other, ON STIPULATION a, Plaintiff and defendant agreed, the signed written stipulation was, the stipulation was stated in open, the stipulation was stated on the, AFTER COURT TRIAL The jury was, The case was tried on date and, Appearances by, and Plaintiff name each field.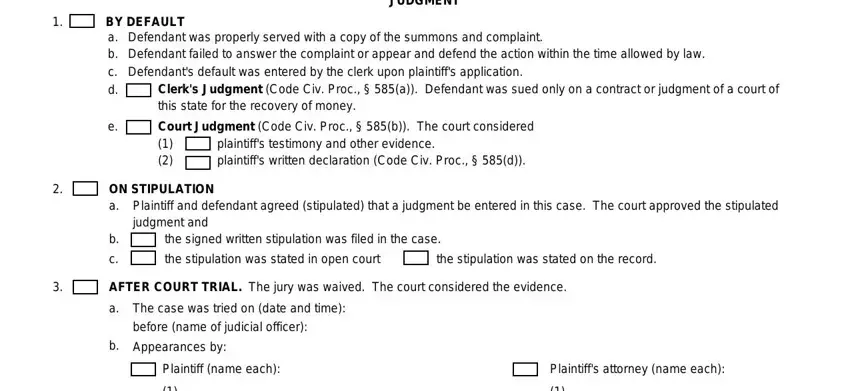 You may be asked to note the data to help the application complete the field Continued on Attachment b, Defendant name each, Continued on Attachment b, Defendant s attorney name each, Defendant did not appear at trial, A statement of decision Code Civ, was not, was, requested, Form Approved for Optional Use, JUDGMENT, Page of, and Code of Civil Procedure.

Inside of space PLAINTIFF, DEFENDANT, CASE NUMBER, JUDGMENT IS ENTERED AS FOLLOWS BY, THE COURT, THE CLERK, Stipulated Judgment Judgment is, Parties Judgment is, for plaintiff name each, for crosscomplainant name each, and against defendant names, and against crossdefendant name, Continued on Attachment a, Continued on Attachment c, and for defendant name each, indicate the rights and responsibilities.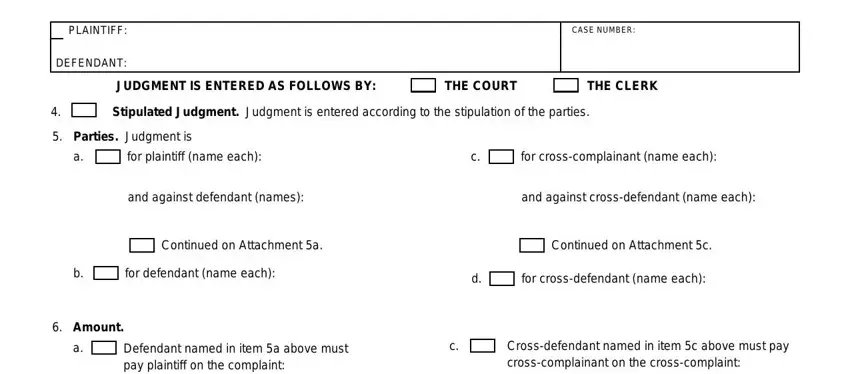 Fill out the file by reviewing the following sections: Damages, Prejudgment interest at the annual, Attorney fees, Costs, Other specify, TOTAL, Damages, Prejudgment interest at the annual, Attorney fees, Costs, Other specify, TOTAL, Plaintiff to receive nothing from, Defendant named in item b to, and and attorney fees.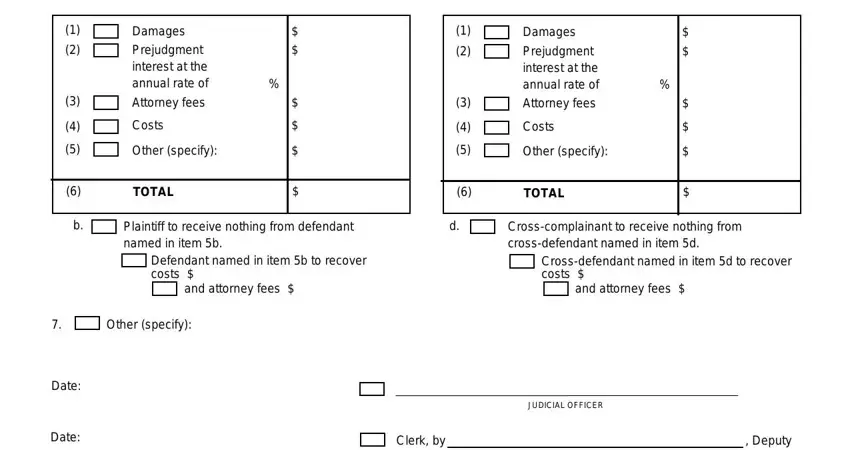 Step 3: Press the Done button to save the document. Then it is at your disposal for upload to your gadget.
Step 4: Make minimally several copies of the file to stay away from any sort of potential future difficulties.