The PDF editor helps make submitting files trouble-free. It is extremely convenient to enhance the Mn Dmv Form document. Adhere to all of these actions in order to achieve this:
Step 1: On this web page, press the orange "Get form now" button.
Step 2: Now, you're on the file editing page. You may add text, edit existing data, highlight certain words or phrases, place crosses or checks, add images, sign the form, erase needless fields, etc.
Type in the appropriate material in each one section to complete the PDF ps, 2000 form mn
Remember to enter your information within the section SELLERS, PRINTED, NAMES SELLERS, ADDRESS ACQUISITION, DATE DEALER, LICENSE ALL, SELLERS, SIGNATURES FIRST, SECURED, PARTY, PRINT, NAME STREET, ADDRESS CITY, NO, DATE, OF, LOAN IF, YES, COMPLETE, SECTION, C STATE, ZIP, CODE FIRST, MIDDLE, LASTNAME DRIVERS, LICENSE, NUMBER, DEALER, NUMBER and DATEOFBIRTH.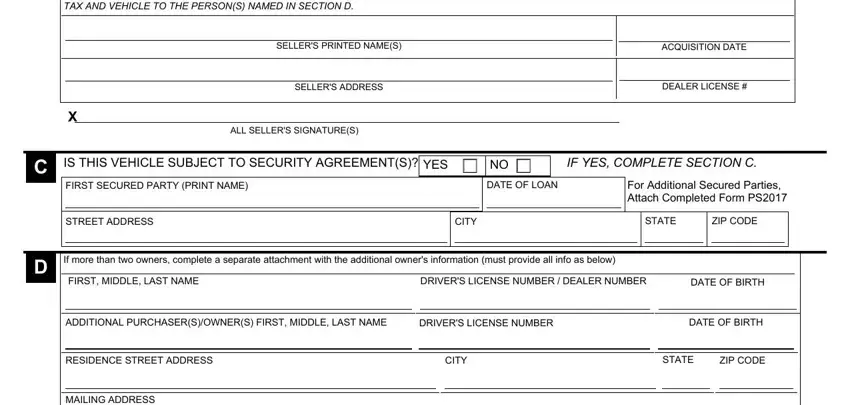 You need to provide particular information in the box This, section, to, be, completed, if, under and PSA.

The WERE, YOU, A, MINNESOTA, RESIDENT AT, THE, TIME, OF, PURCHASE, YES IF, NO, WHEN, DID, YOU, BECOME, A MINNESOTA, RESIDENT MINNESOTA, ROAD, OR, HIGHWAY BASE, VALUE, M, SRP, or, GROSS, WEIGHT REGISTRATION, PERIOD US, DOT, Number MN, COUNTY, STATE, VE, HIS, KEPT Registration, Quantity From, Through, One, Plate Two, Plates and Full, purchase, price segment can be used to specify the rights and obligations of each party.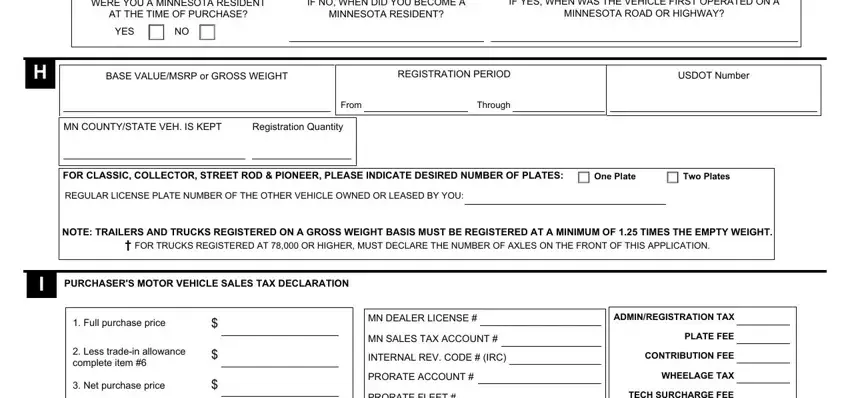 Finish the file by reading all of these fields: NET, SALES, TAX, DUE Trade, in, was MODEL, YR MAKE, PLATE, V, IN, NUMBER LEASE, EXTENSION, FEE REINSTATEMENT, FEE SALVAGE, INSPECTION, FEE SPECIAL, PLATE, TRANSFER, FEE LIEN, FEE MV, SALES, TAX LATE, TRANSFER, PENALTY SUBTOTAL, and STATE, DEPUTY, FILING, FEE, TOTAL, DUE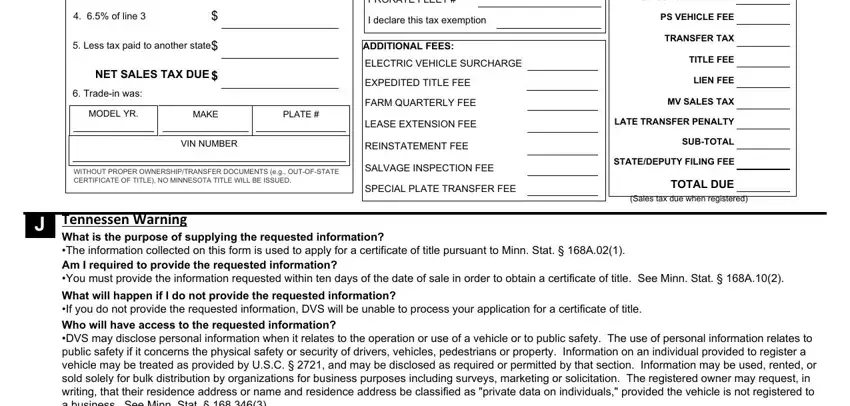 Step 3: If you are done, hit the "Done" button to transfer the PDF document.
Step 4: Prepare copies of your document. This should protect you from upcoming challenges. We cannot read or distribute your details, hence be assured it is safe.