It's easy to fill in the property disclosure empty blanks. Our editor makes it nearly effortless to work with any sort of form. Down the page are the primary four steps you need to consider:
Step 1: The web page includes an orange button stating "Get Form Now". Merely click it.
Step 2: After you have accessed your property disclosure edit page, you will notice all options it is possible to undertake regarding your file at the upper menu.
These particular parts will constitute the PDF form that you will be creating:

Fill out the Pursuant to section of the, Owners Names, Date, Owner, is not occupying the property If, THE FOLLOWING STATEMENTS OF THE, A WATER SUPPLY The source of water, Public Water Service Private Water, Holding Tank Cistern Spring Pond, Unknown Other, Do you know of any current leaks, If Yes please describe and, and Yes field with all the particulars required by the platform.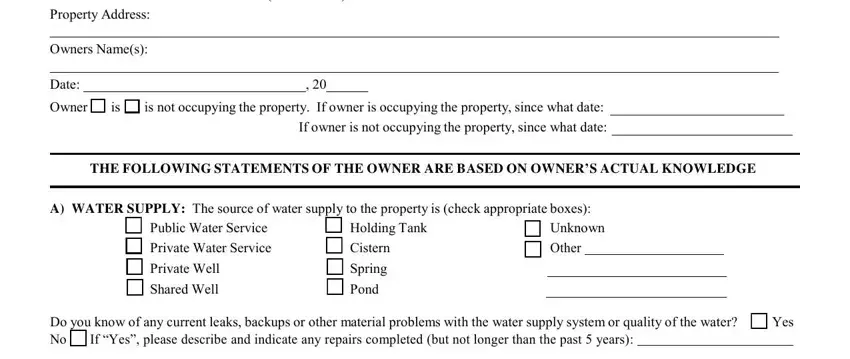 It is essential to give specific particulars in the field Is the quantity of water, B SEWER SYSTEM The nature of the, Public Sewer Leach Field Unknown, Private Sewer Aeration Tank Other, Septic Tank Filtration Bed, If not a public or private sewer, Inspected By, Do you know of any previous or, If Yes please describe and, Information on the operation and, C ROOF Do you know of any previous, Yes, D WATER INTRUSION Do you know of, Yes, and Owners Initials Owners Initials.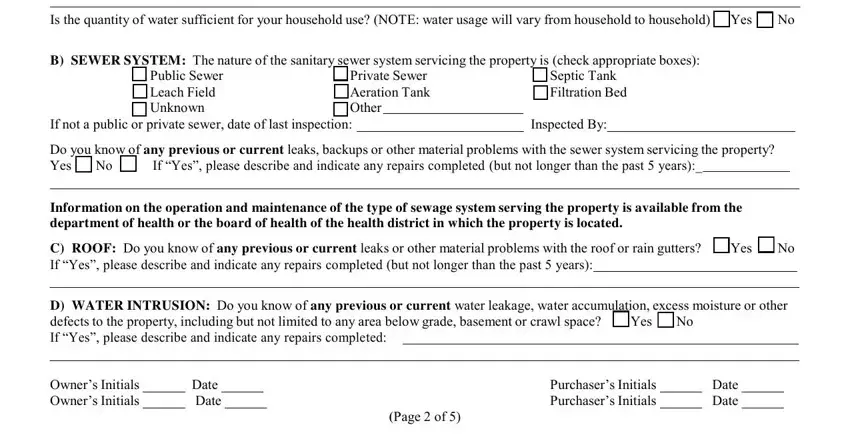 The Property Address, Do you know of any water or, Yes, Have you ever had the property, Yes, Purchaser is advised that every, E STRUCTURAL COMPONENTS FOUNDATION, Yes No, If Yes please describe and, and problem identified but not longer section is where each party can place their rights and obligations.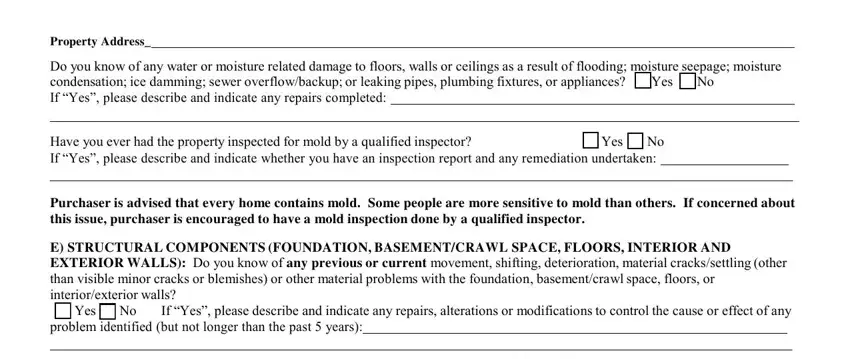 End by looking at all of these areas and typing in the appropriate details: Do you know of any previous or, Yes, F WOOD DESTROYING INSECTSTERMITES, G MECHANICAL SYSTEMS Do you know, YES, YES, Water softener, Electrical Plumbing pipes, Central vacuum Built in, a Is security system leased, a Is water softener leased, Security System, H PRESENCE OF HAZARDOUS MATERIALS, Yes, and Unknown.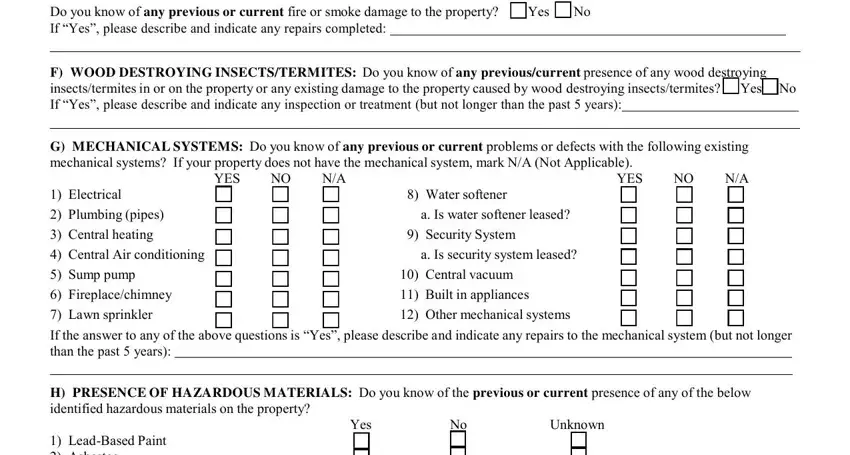 Step 3: Hit the "Done" button. Now you may export the PDF document to your gadget. As well as that, you can easily send it by means of email.
Step 4: Make copies of your form. This may prevent upcoming worries. We do not watch or disclose the information you have, so you can be confident it's going to be protected.