Using the online editor for PDFs by FormsPal, you may fill in or modify printing job order form right here. Our editor is constantly evolving to provide the best user experience attainable, and that is because of our commitment to continuous enhancement and listening closely to user comments. In case you are seeking to begin, here is what it requires:
Step 1: Simply click the "Get Form Button" above on this webpage to launch our pdf editing tool. This way, you'll find all that is required to fill out your file.
Step 2: With the help of our state-of-the-art PDF editing tool, you'll be able to accomplish more than merely fill out blanks. Express yourself and make your forms appear perfect with customized textual content put in, or tweak the original content to perfection - all that accompanied by the capability to insert just about any images and sign the document off.
It's straightforward to finish the pdf using this helpful tutorial! Here is what you must do:
1. The printing job order form involves specific information to be inserted. Make sure the next fields are filled out: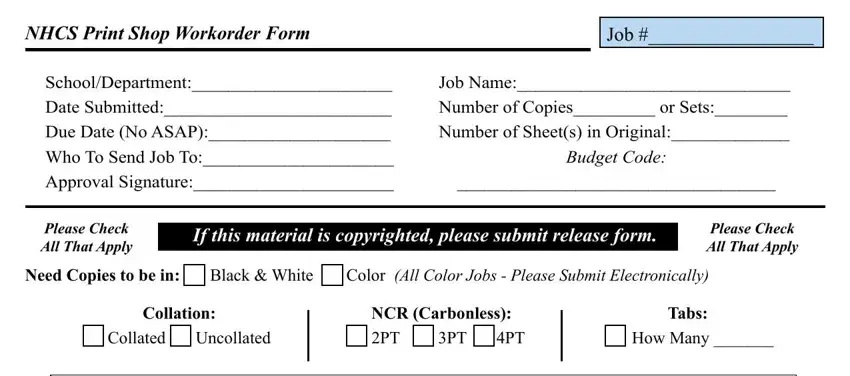 2. Right after performing this part, head on to the subsequent step and fill in the necessary details in these blanks - Size of Paper, x Hole x x x Card Stock, LetterheadRM Business Cards box, Side Printing, Cardstock Covers Please Specify, to to to, Front Cover Color BW Back Cover, Color of PaperPlease Specify Color, x Colors, x Card Stock, x Brights OrangeLimePulsar, x Colors, x Card Stock White Only, x Colors Same as x Colors, and Note Colors Subject to Change.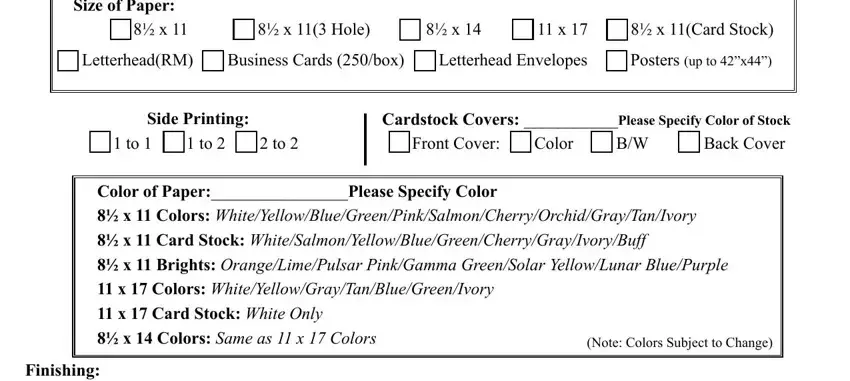 3. This stage is normally straightforward - complete every one of the empty fields in Single, Double, Folded Staples, Side Glue Top Glue, Sheets per Pad, Special Instructions, SENDING INSTRUCTIONS, OPTION Email as Attachment Email, OPTION Print and Send with Job, Please Allow Extra Time, Comb Binds, Please Allow Extra Time, Half, TriFold, and To be completed by Purchasing to conclude this segment.

Be very attentive when filling out Side Glue Top Glue and OPTION Print and Send with Job, since this is where most users make mistakes.
Step 3: Just after going through the fields you've filled out, hit "Done" and you're all set! Find the printing job order form when you join for a 7-day free trial. Easily access the pdf file in your FormsPal account page, together with any modifications and changes being all synced! Here at FormsPal.com, we strive to guarantee that all of your information is stored private.