It is easy to create forms with the help of our PDF editor. Enhancing the usps form 3600 ez 2021 form is easy for those who keep up with the next actions:
Step 1: Click the orange button "Get Form Here" on the following page.
Step 2: The file editing page is right now available. Include information or change current content.
To be able to prepare the document, enter the information the program will request you to for each of the next areas:
Type in the details in the pcs, x Postage, Af, x, ed y, nOes, US, PSU Additional, Postage, Payment, State, reason TotalAdjustedPostage, Af, x, ed Total, Adjusted, Postage, Permit, Imprint Signature, of, Mailer, or, Agent Telephone, no, it, ac, it, reC Total, Weight Yes, No, If, yes, reason Round, Stamp, Required, Payment, Date Total, Postage Date, Mailer, Not, i, ed and Contact field.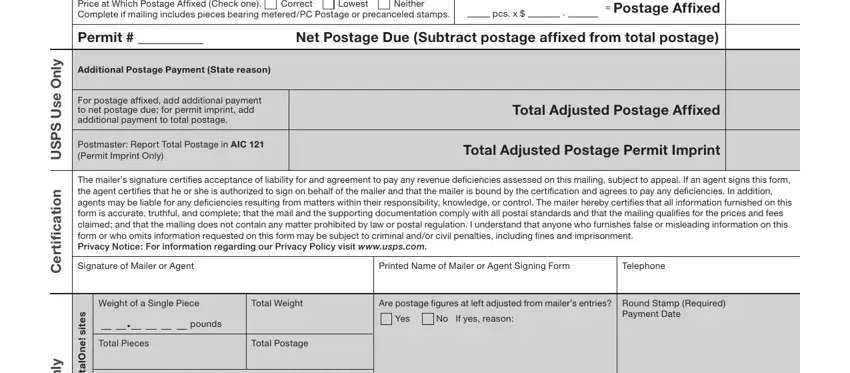 You will have to provide particular particulars inside the field By, Initials Time, PM USPS, Employees, Signature Print, USPS, Employees, Name y, nOes, US, PSU de, te and pm, o, ce, boT

Step 3: Hit the Done button to save your form. Now it is available for transfer to your gadget.
Step 4: Generate duplicates of the file. This may protect you from possible future complications. We cannot see or display your data, as a consequence be sure it will be safe.