sipc reconciliation can be filled out online effortlessly. Simply try FormsPal PDF tool to accomplish the job without delay. In order to make our tool better and less complicated to utilize, we consistently design new features, taking into consideration feedback from our users. To get started on your journey, go through these basic steps:
Step 1: Simply hit the "Get Form Button" above on this page to launch our pdf form editor. There you'll find all that is necessary to fill out your document.
Step 2: Once you open the file editor, there'll be the document made ready to be filled in. Besides filling in various fields, you may as well do some other things with the file, such as writing any words, editing the original textual content, adding images, signing the form, and a lot more.
If you want to fill out this form, ensure you enter the information you need in every single blank:
1. Firstly, while filling out the sipc reconciliation, start with the area with the subsequent fields: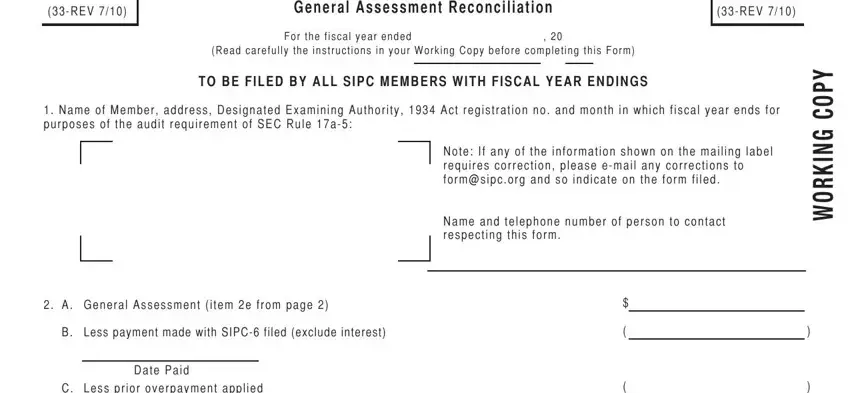 2. The next stage would be to submit the following blanks: C Less prior overpayment applied, D Assessment balance due or, Interest computed on late payment, F Total assessment balance and, G PAID WITH THIS FORM, Check enclosed payable to SIPC, H Overpayment carried forward, Subsidiaries S and predecessors P, The SIPC member submitting this, Dated the day of, Name of Corporation Partnership or, Authorized Signature, Title, and This form and the assessment.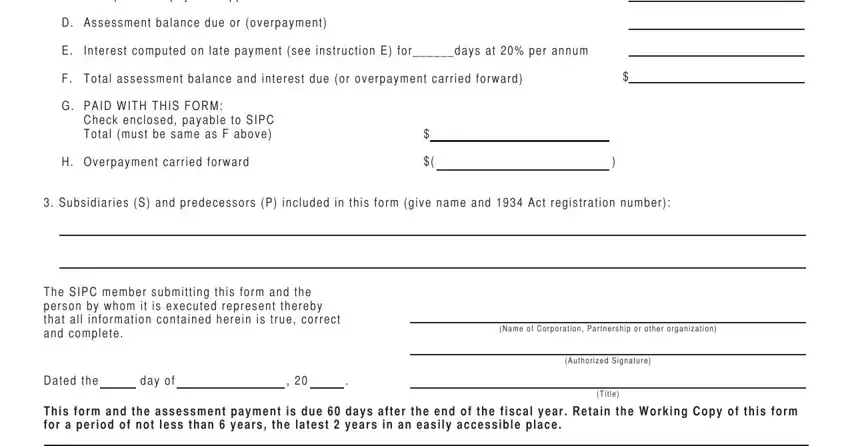 People frequently make errors while completing C Less prior overpayment applied in this section. Be sure you double-check everything you enter right here.
3. Your next step is normally easy - fill out all the form fields in and general aSSeSSmenT, item no a Total revenue FOCUS Line, Amounts for the fiscal period, eliminate cents, b Additions, Total revenues from the, predecessors not included above, Net loss from principal, Net loss from principal, Interest and dividend expense, Net loss from management of or, Expenses other than advertising, profit from management of or, Net loss from securities in, and Total additions in order to complete this process.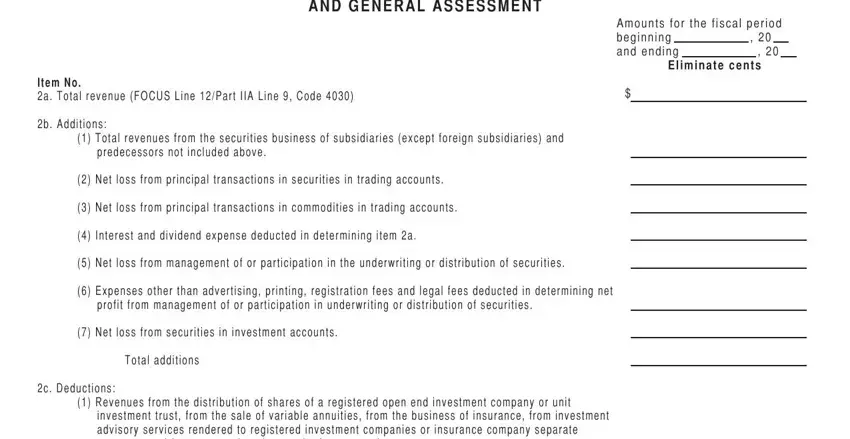 4. The following subsection needs your details in the subsequent parts: c Deductions, Revenues from the distribution of, investment trust from the sale of, Revenues from commodity, Commissions floor brokerage and, securities transactions, Reimbursements for postage in, Net gain from securities in, of commissions and markups, Direct expenses of printing, related to the securities business, Other revenue not related either, See Instruction C, i Total interest and dividend, and Code plus line b above but not in. Be sure to enter all requested information to go onward.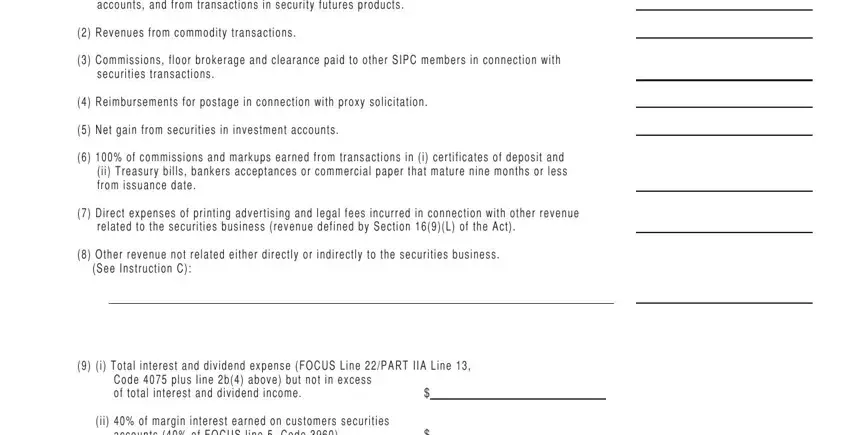 5. The document should be finalized by filling out this part. Here you have a full listing of fields that need to be filled in with specific details to allow your document submission to be faultless: ii of margin interest earned on, accounts of FOCUS line Code, Enter the greater of line i or ii, Total deductions, d SIPC Net Operating Revenues, e General Assessment, and to page line A.

Step 3: Just after looking through your entries, press "Done" and you're good to go! Sign up with us today and easily get sipc reconciliation, available for download. All adjustments made by you are preserved , enabling you to change the form at a later point as required. With FormsPal, you can fill out forms without stressing about personal information leaks or entries getting shared. Our secure software makes sure that your personal data is maintained safely.