You can complete st7 form effortlessly by using our PDFinity® online tool. Our development team is ceaselessly working to enhance the editor and enable it to be much easier for people with its handy functions. Take your experience to a higher level with constantly growing and exciting options we provide! To get the ball rolling, consider these easy steps:
Step 1: Access the PDF doc in our editor by clicking on the "Get Form Button" above on this page.
Step 2: The tool allows you to modify your PDF form in a variety of ways. Enhance it with customized text, correct what is already in the document, and include a signature - all doable within minutes!
As for the blanks of this particular form, here's what you should consider:
1. The st7 form usually requires particular details to be entered. Be sure the subsequent blanks are filled out: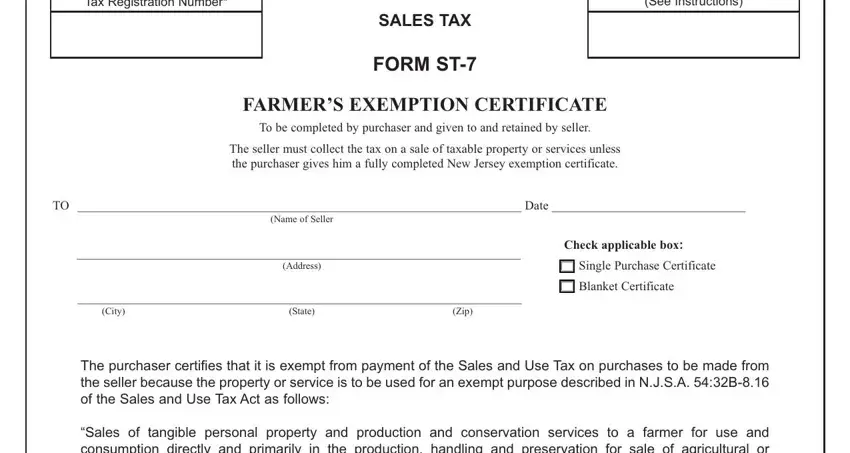 2. Immediately after the first section is completed, go to enter the applicable details in all these: Description of agricultural or, Description of tangible personal, Name of individual partnership, Business address, By Signature of individual farm, INSTRUCTIONS, This certificate must be presented, and MAY BE REPRODUCED.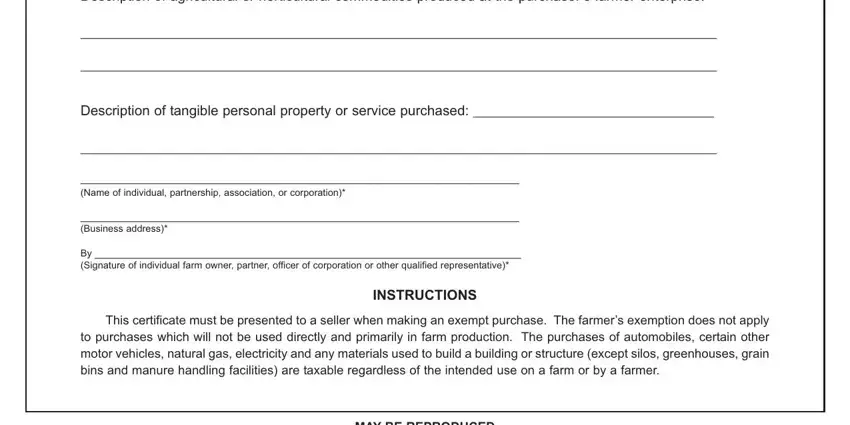 As to Description of agricultural or and This certificate must be presented, make sure you review things in this section. Both of these are viewed as the most significant fields in the file.
Step 3: Once you have reviewed the details you filled in, click "Done" to conclude your document creation. Grab your st7 form once you register online for a 7-day free trial. Readily view the pdf file from your FormsPal account page, along with any modifications and changes conveniently preserved! With FormsPal, you're able to fill out forms without the need to worry about information incidents or entries getting shared. Our secure platform makes sure that your personal information is kept safe.