The PDF editor you will apply was made by our top level software engineers. You can easily fill out the usps form 3533 fillable file easily and conveniently applying our software. Merely follow this particular instruction to start out.
Step 1: At first, click the orange "Get form now" button.
Step 2: It's now possible to update the usps form 3533 fillable. This multifunctional toolbar allows you to include, eliminate, change, and highlight content material or perhaps perform similar commands.
These segments are what you will have to prepare to receive the finished PDF document.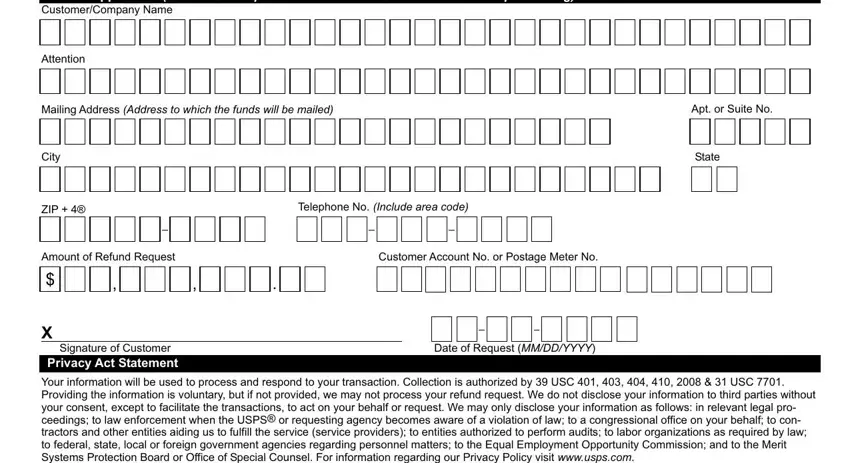 Indicate the data in Request Disbursement For Select, Refund Postage and Fees AIC, Post Office PVI Error Issued, Refund of Special Service Fees, SpoiledUnused Printed Customer, Refund of Permit Postage and Fees, Refund of Fees and Retail Services, Refund for Postal Service Related, Refund Miscellaneous NonPostal, Express Mail Refunds AIC Postage, Sure Money Refund AIC Issued, Withdrawal from Advance Deposit, Close Account, Partial Refund, and Other Refunds AIC.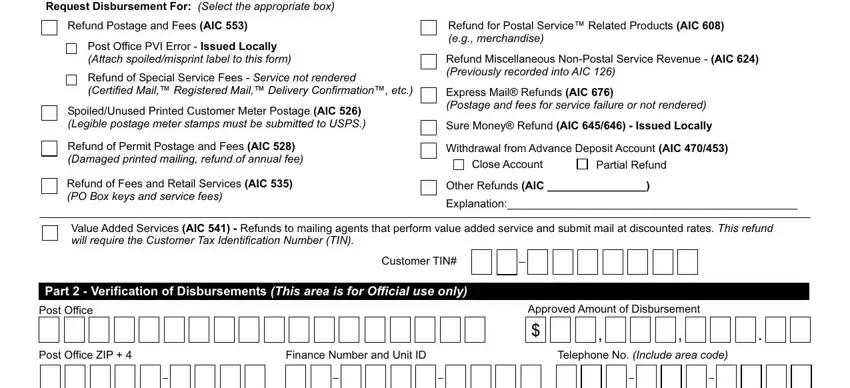 Describe the most crucial details about the Print Contact Name, Certifying Employee Signature Date, and Witness Signature Date field.
The area Part Postage or Meter Stamps, Meter Manufacturer, Meter Serial No, Meter License, Group and list by postage units or, Group and list by postage units or, Number of Pieces, Amount Each, Postage Value, Number of Pieces, Amount Each, Postage Value, Total Postage Value, Total Postage Value, and Grand Total of Postage Value should be for you to indicate each side's rights and responsibilities.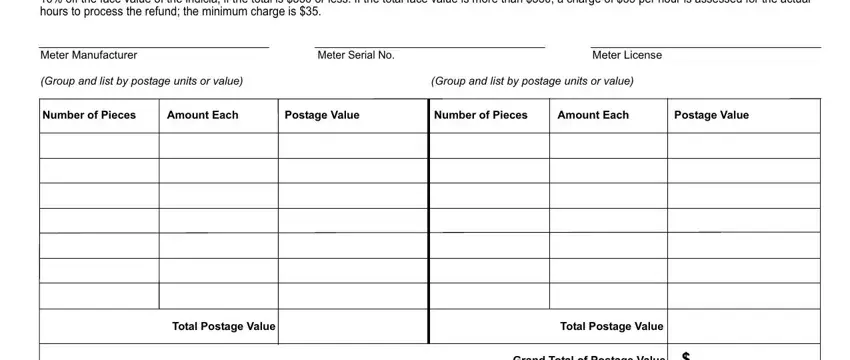 Look at the areas Post Offices must destroy customer, Total To Be Refunded, of face value or per hour if, Grand Total of Postage Value, Less Charges, SupervisorManager Signature, Date, Witness Signature, Date, Part Special Services and Other, Amount of Refund to Which Claimant, Part Disbursements for Refunds, Payee Signature or Money Order, Date, and Part Disbursements Processed by and then fill them in.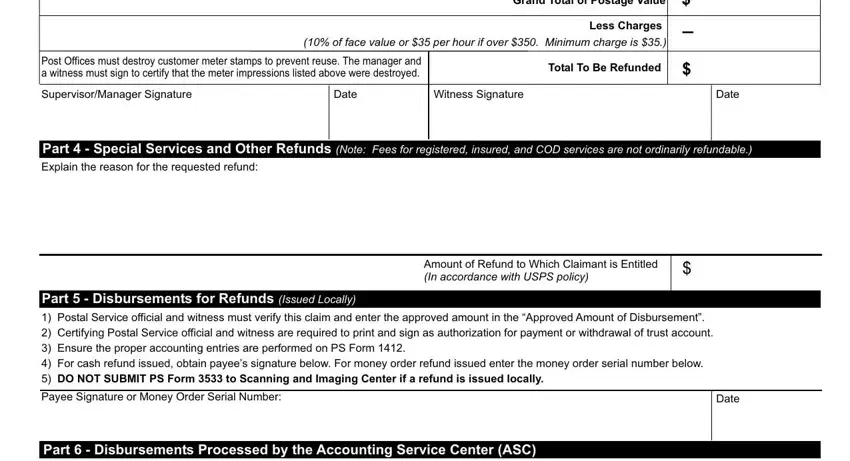 Step 3: If you are done, press the "Done" button to upload the PDF document.
Step 4: In order to avoid any kind of concerns in the long run, you should get up to a couple of copies of the file.