You can fill in vendor information form online instantly with the help of our PDFinity® editor. Our editor is constantly evolving to deliver the very best user experience possible, and that's because of our dedication to constant development and listening closely to customer opinions. All it takes is a couple of simple steps:
Step 1: Access the form inside our tool by hitting the "Get Form Button" in the top section of this webpage.
Step 2: With the help of our state-of-the-art PDF editing tool, it's possible to accomplish more than just fill out blank form fields. Express yourself and make your docs look professional with customized text put in, or modify the file's original input to perfection - all that comes along with an ability to incorporate stunning graphics and sign the file off.
It's simple to fill out the document adhering to our practical guide! Here's what you should do:
1. Fill out your vendor information form online with a number of major fields. Get all the necessary information and make certain there's nothing omitted!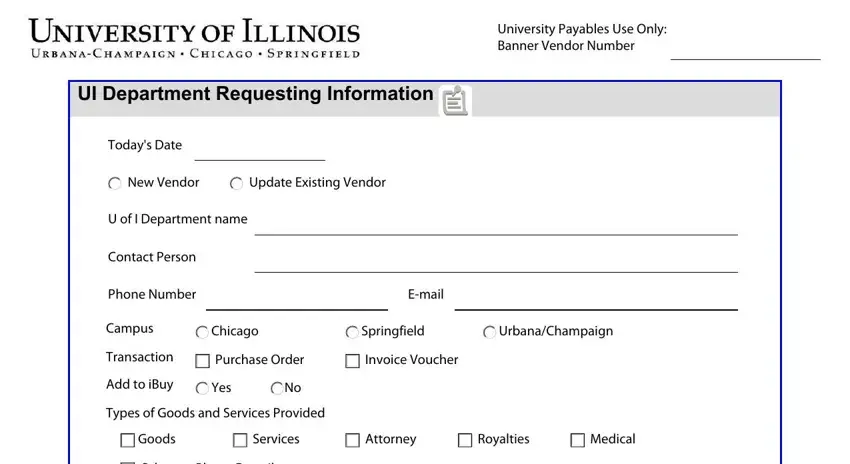 2. Your next part would be to fill out all of the following blank fields: Vendor Information Form, This form must be completed prior, If you need help email us at, Vendors please complete the, Step Tax information, Name of Individual or Business, If completing form as an, Parent Company Name if different, Taxpayer Identification Number TIN, Enter Social Security Number or, Please mark all boxes that apply, Individual, CorporationIncorporated TC, and Gov Entity TG.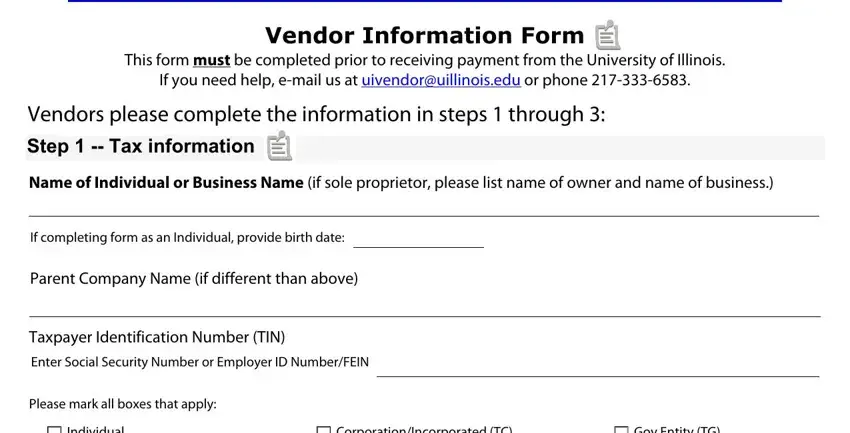 When it comes to Vendors please complete the and Please mark all boxes that apply, make certain you get them right in this current part. These are the key ones in the page.
3. Through this step, look at Individual, Sole Proprietor, CorporationIncorporated TC, Gov Entity TG, Med Health Care Srcs Prov TM, NotforProfit Corp TN, LLC Sole Proprietor TLTI, Real Estate Agent TR, LLC Partnership TLTP, LLC Corporation TLTC, Attorney AT, Partnership TP, Tax Exempt Org TE, Foreign Vendor VF, and Trust or Estate TT. All these have to be completed with highest attention to detail.

4. To go forward, this part requires typing in a handful of form blanks. Included in these are Permanent ResidenceCorporate, Address, City, Phone, State, Zip Code, Fax, Email, Payment Address if different from, Address, City, Phone, State, Zip Code, and Fax, which are vital to going forward with this process.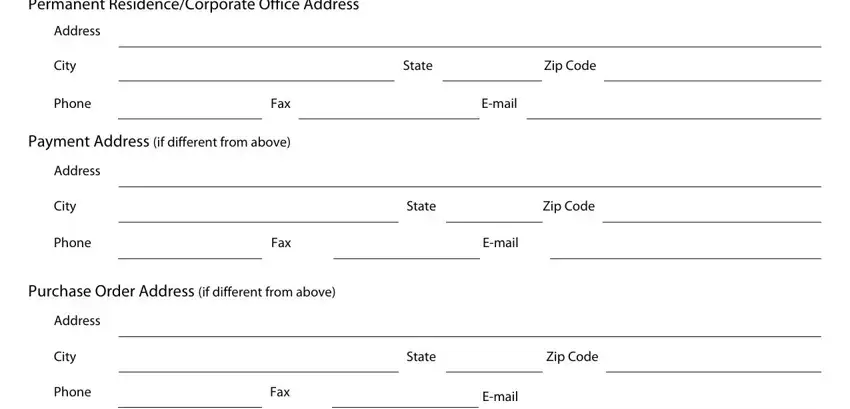 5. When you come close to the end of this file, you will find a couple more requirements that must be fulfilled. Mainly, Individuals Please check the, US Citizen, US Permanent Resident Resident, Resident Alien for Tax Purposes, NonResident Alien NonResident, WBEN, Businesses Please check the, US Company, Foreign Vendor with US Presence, WECI, Foreign Vendor Foreign Vendors are, WBENE, WEXP, Types of Goods and Services, and Goods should all be done.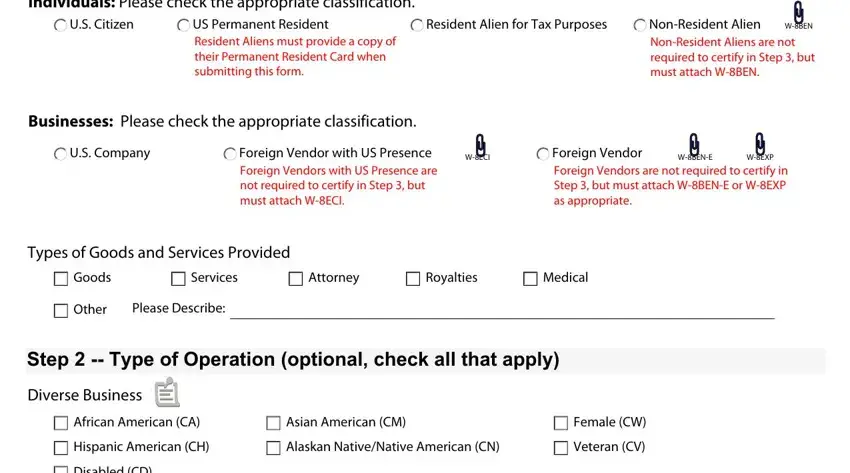 Step 3: Before finishing your document, make sure that all form fields were filled out right. Once you are satisfied with it, press "Done." Create a free trial account with us and acquire immediate access to vendor information form online - readily available inside your personal cabinet. FormsPal is devoted to the personal privacy of our users; we always make sure that all personal data handled by our system continues to be protected.