Filling in ameriprise form 30481 is simple. Our team designed our software to make it user-friendly and uncomplicated and allow you to prepare any PDF online. Here are a couple steps that you need to stick to:
Step 1: At first, click the orange "Get form now" button.
Step 2: The file editing page is now open. Include information or enhance current information.
If you want to complete the form, type in the details the application will ask you to for each of the following sections: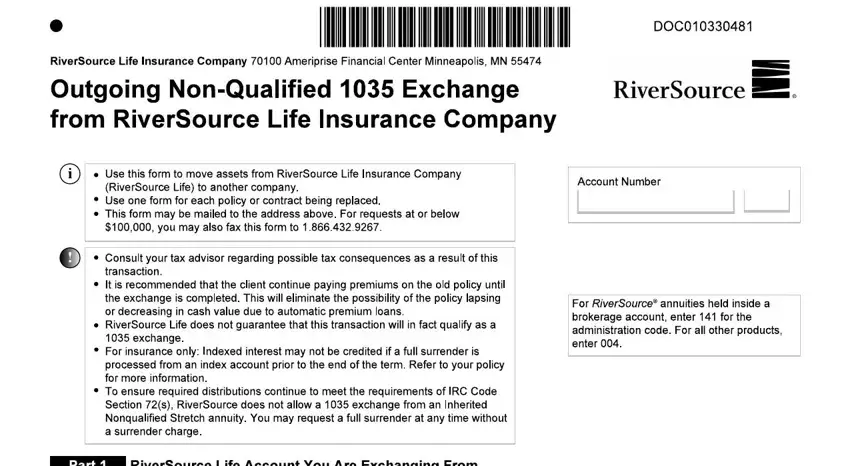 Enter the appropriate information in the space Joint Owner Name (if applicable), Insured/Annuitant Name, Amount to be moved:, Annuities Only Specified Amount, Part 2, Account You Are Exchanging To, Company Name, Agent/Advisor Name, Product Name, Product Type (Select One), New Policy/Contract Number (if, Fixed Life Insurance, Fixed Annuity, Market Value Annuity, Immediate Annuity, Long Term Care, Variable Life Insurance, Variable Annuity, Equity Index Annuity, Other, If Product selected is an Annuity:, New Contract, Existing Contract, Owner Name, and Trust or Entity Name (if.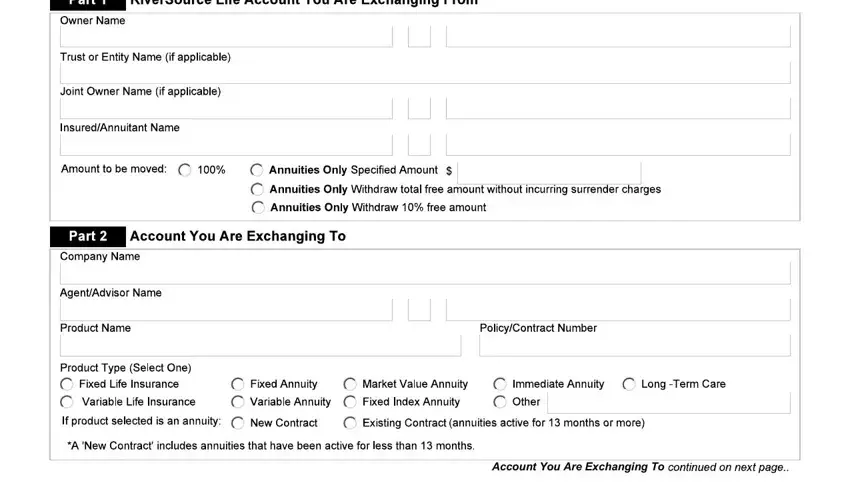 The program will request information to instantly fill up the area Trust or Entity Name (if, Joint Owner Name (if applicable), Insured/Annuitant Name, Sign on Page 3, Account You Are Exchanging To, © 2008-2011 RiverSource Life, Page 1 of 3, and L (10/11).

You will have to indicate the rights and obligations of every party in box Make check payable to:, Mail check to:, Address, City, State, ZIP code, Part 3, Absolute Assignment and Signature, and I hereby assign the portion of my.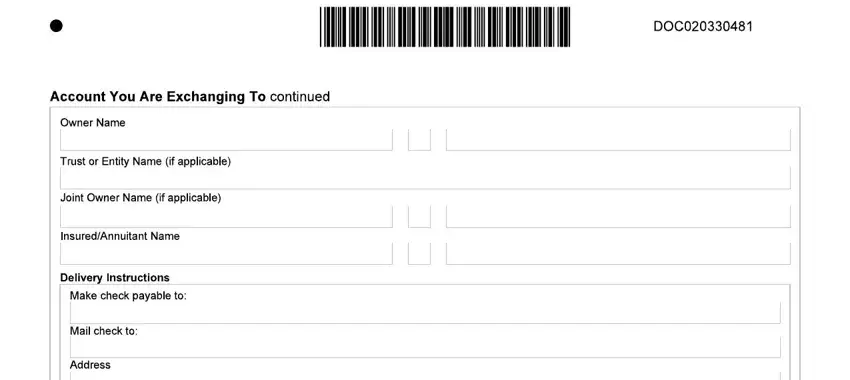 Finalize by reviewing these areas and completing the appropriate data: Owner Name, Owner Signature, X Joint Owner Name (if applicable), Owner Phone Number, Date (MMDDYYYY), Joint Owner Signature (if, Date (MMDDYYYY), X Spouse Name (if owner or spouse, Spouse Signature (if community, Date (MMDDYYYY), Part 4, Letter of Acceptance and Surrender, and Please note cost basis information.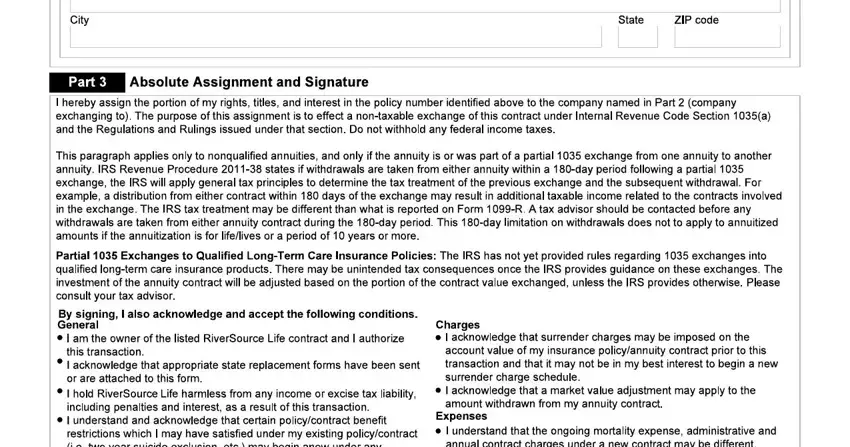 Step 3: After you hit the Done button, your finalized document can be simply transferred to all of your devices or to email indicated by you.
Step 4: To prevent yourself from probable forthcoming troubles, be sure to hold around several duplicates of each and every document.