The whole process of filling out the adsfadf is rather effortless. Our team made sure our PDF tool is not hard to navigate and helps fill out any sort of document within minutes. Listed here are a couple of steps you'll want to take:
Step 1: Press the "Get Form Now" button to get started on.
Step 2: As soon as you get into the adsfadf editing page, you'll see each of the functions you may take with regards to your file within the top menu.
Type in the essential details in each segment to fill in the PDF adsfadf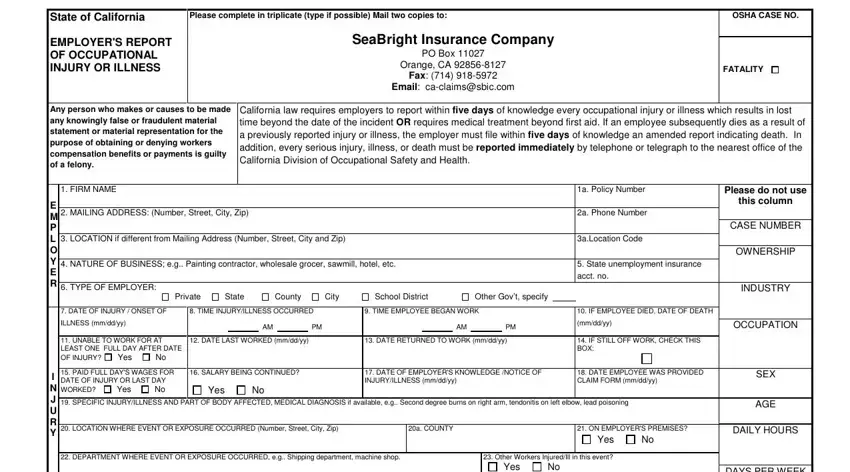 Provide the appropriate details in Yes, SALARYBEINGCONTINUED, Yes, SEX, AGE, aCOUNTY, ONEMPLOYERSPREMISES, Yes, DAILYHOURS, OtherWorkersInjuredIllinthisevent, Yes, Yes, aPhoneNumber, aPhoneNumber, and EmployeetreatedinEmergencyRoom segment.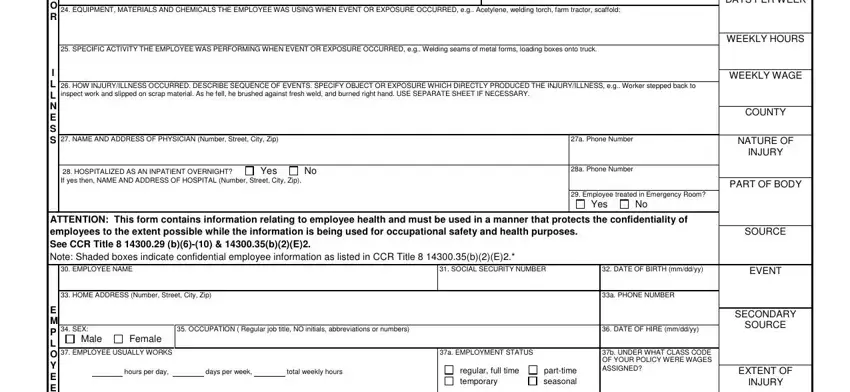 Mention the important information in EMPLOYEE, EMPLOYEENAME, HOMEADDRESSNumberStreetCityZip, SEX, Male, Female, aEMPLOYMENTSTATUS, regularfulltimetemporary, parttimeseasonal, SOCIALSECURITYNUMBER, DATEOFBIRTHmmddyy, EVENT, aPHONENUMBER, SECONDARY, and SOURCE area.

Step 3: After you click the Done button, the finalized document is readily transferable to each of your devices. Alternatively, you can deliver it by using mail.
Step 4: Attempt to create as many duplicates of your document as you can to stay away from future worries.