insurers can be filled in online with ease. Just use FormsPal PDF tool to accomplish the job without delay. Our tool is continually evolving to present the best user experience achievable, and that's thanks to our resolve for constant enhancement and listening closely to testimonials. Here is what you will have to do to begin:
Step 1: Simply hit the "Get Form Button" above on this site to open our pdf form editing tool. There you will find all that is required to work with your document.
Step 2: With the help of this state-of-the-art PDF file editor, you'll be able to accomplish more than simply fill in blanks. Edit away and make your forms seem great with custom textual content added in, or modify the file's original content to perfection - all that comes along with an ability to add your own images and sign the file off.
In order to fill out this form, ensure that you provide the right details in every single blank field:
1. Complete the insurers with a selection of necessary fields. Gather all of the information you need and be sure not a single thing neglected!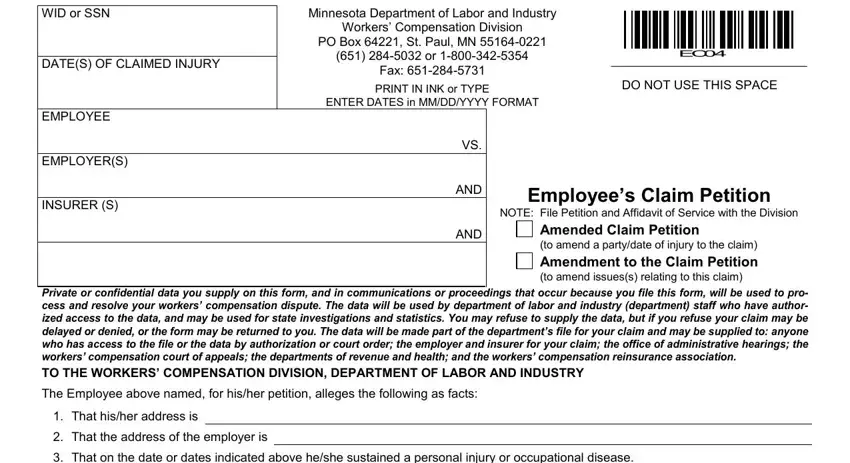 2. The next step is to submit the next few blanks: That on said date heshe was in, That hisher weekly wage at the, That said injury or disease arose, That the nature of said injury or, That said employer had knowledge, That on said date the employer, That said employer and insurer, DISABILITY BENEFITS, Applicable PPD rule citation, MEDICAL BENEFITS, Doctor Hospital Other, REHABILITATION BENEFITS, OTHER, Amount, and a Temporary Total from.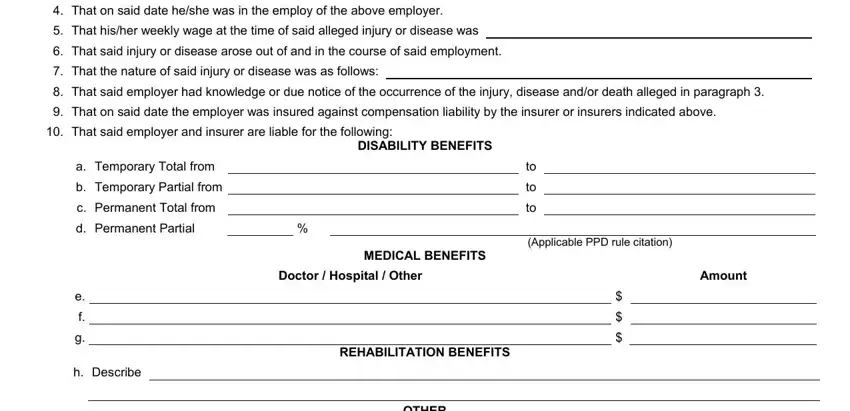 3. Completing OTHER, AMOUNT, CLAIM NUMBER or POLICY NUMBER, i Describe, NAME and ADDRESS of any third, maintenance related to this claim, That employees date of birth is, MN EC, and over is essential for the next step, make sure to fill them out in their entirety. Don't miss any details!

Always be very attentive when completing That employees date of birth is and AMOUNT, since this is the section where most users make some mistakes.
4. Filling out WHEREFORE Employee petitions for, EMPLOYEE SIGNATURE, ATTORNEY FOR EMPLOYEE SIGNATURE, ADDRESS, ADDRESS, CITY, STATE, ZIP CODE, CITY, STATE, ZIP CODE, TELEPHONE, TRIAL DATA, ATTORNEY REGISTRATION, and TELEPHONE is key in this next part - don't forget to spend some time and be attentive with every blank area!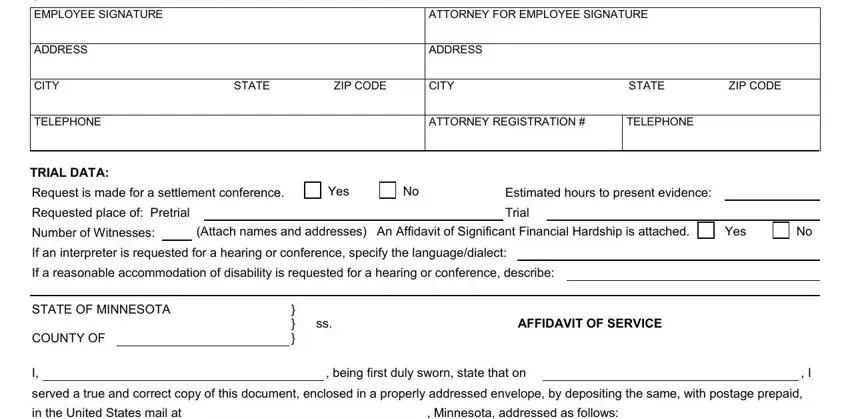 5. This last stage to submit this document is essential. Make certain you fill out the necessary blanks, consisting of in the United States mail at NAMES, Subscribed and sworn to before me, this, day of, Notary Public, My Commission expires, Signature, INSTRUCTIONS, Failure to properly and fully, If you have more defendants or, The claim must be presented in, If additional space is required to, The petitioner must serve a copy, cable and any third party named in, and This material can be made, prior to finalizing. Otherwise, it may lead to an incomplete and probably unacceptable paper!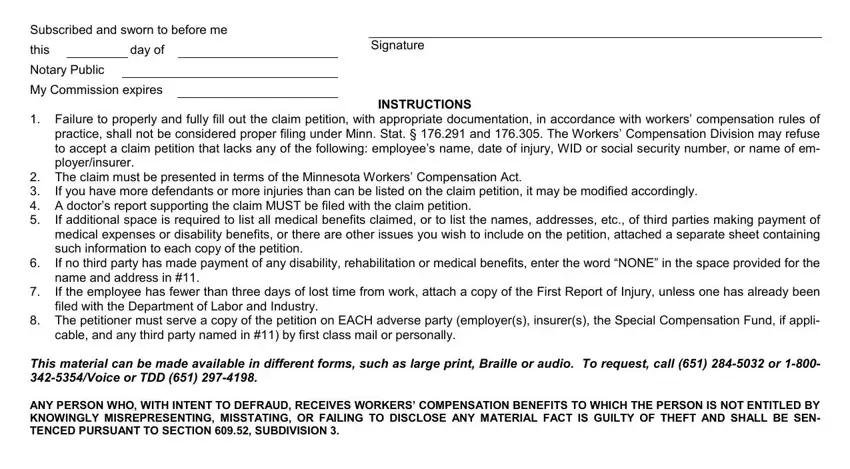 Step 3: You should make sure the details are correct and click on "Done" to finish the process. After getting afree trial account at FormsPal, it will be possible to download insurers or send it via email promptly. The PDF file will also be readily available from your personal account with all your modifications. At FormsPal, we endeavor to make certain that your information is kept protected.