It is possible to fill in the first citizens bank financial statement form with this PDF editor. These actions will allow you to easily get your document ready.
Step 1: Click the button "Get Form Here".
Step 2: As soon as you've accessed the editing page first citizens bank financial statement, you will be able to discover all of the actions intended for your form within the top menu.
The PDF form you are about to fill in will cover the next segments: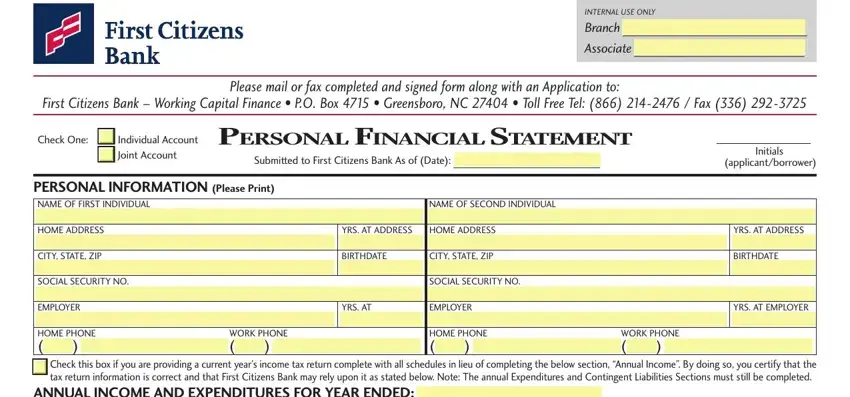 Note the necessary particulars in the box GROSS ANNUAL INCOME, BORROWER, COBORROWER, COMBINED, ANNUAL EXPENDITURES, BORROWER, COBORROWER, COMBINED, SALARY BONUSES COMMISSIONS, DIVIDENDS INTEREST, REAL ESTATE INCOME, OTHER INCOME List, Any significant changes expected, Yes, and If yes attach information.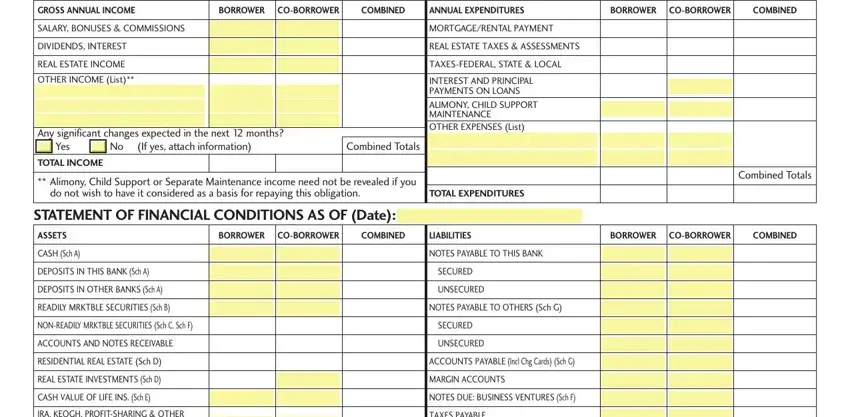 The system will require you to present some necessary details to conveniently fill in the area IRA KEOGH PROFITSHARING OTHER, DEFERRED INCOME Number of Years, PERSONAL PROPERTYOTHER ASSETS List, TOTAL ASSETS, TAXES PAYABLE, MORTGAGE DEBT Sch D, LIFE INSURANCE LOANS Sch E, OTHER LIABILITIES List, Total Liabilities, Combined Totals, Net Worth, LIABILITIES NET WORTH, Combined Totals, and Page.

For paragraph SCHEDULE A Cash Checking and, NAME, FINANCIAL INSTITUTION, ACCOUNT TYPE, OWNER, IF PLEDGED TO WHOM, BALANCE, SCHEDULE B C US Government, ARE THESE REGISTERED PLEDGED OR, EXCHANGES WHERE TRADED, MARKET VALUE, IN NAMES OF, DESCRIPTION, SCHEDULE D Personal Residence, and LOAN MATURITY DATE, state the rights and responsibilities.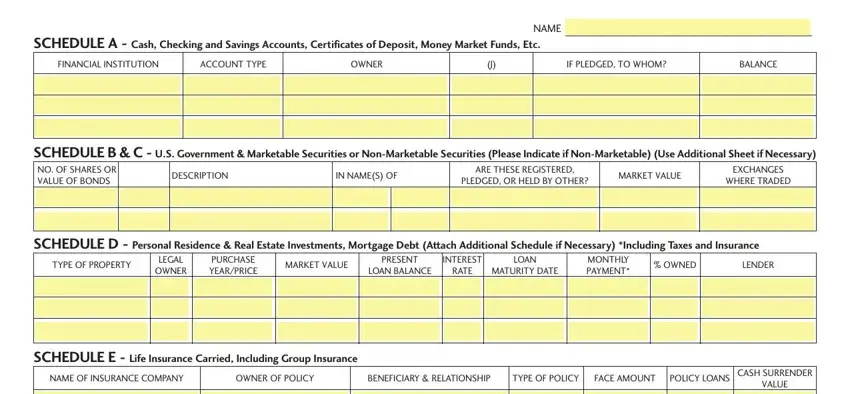 Review the areas SCHEDULE F Business Ventures Use, LIST NAME ADDRESS OF ANY BUSINESS, YOUR POSITIONTITLE IN THE BUSINESS, LINE OF BUSINESS, YEARS IN BUSINESS, CURRENT MARKET VALUE, YOUR OF OWNERSHIP SHIP NOTES CASH, BAL DUE ON PARTNER, FINAL, SCHEDULE G Loans Owing Banks, LINEORIGINAL AMOUNT DATE, OWING TO ACCT NO, PRESENT BALANCE, TYPE OF LOAN, and DATE OF FINAL PAYMENT and next fill them in.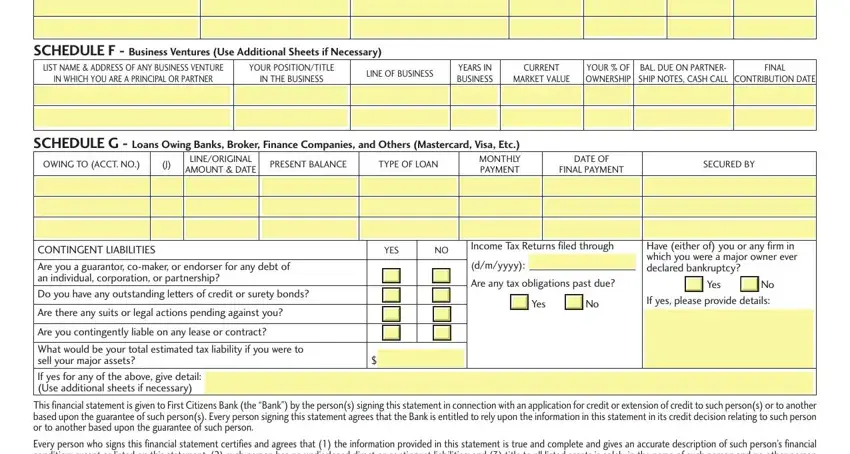 Step 3: As soon as you are done, press the "Done" button to export your PDF document.
Step 4: In order to avoid all of the difficulties in the foreseeable future, be sure to have as much as a couple of duplicates of your document.