The PDF editor makes it easy to manage the bank personal financial statement file. You should be able to make the file promptly by using these simple steps.
Step 1: Press the orange button "Get Form Here" on the web page.
Step 2: You will find each of the actions you can use on the template after you've entered the bank personal financial statement editing page.
Create the particular segments to prepare the document: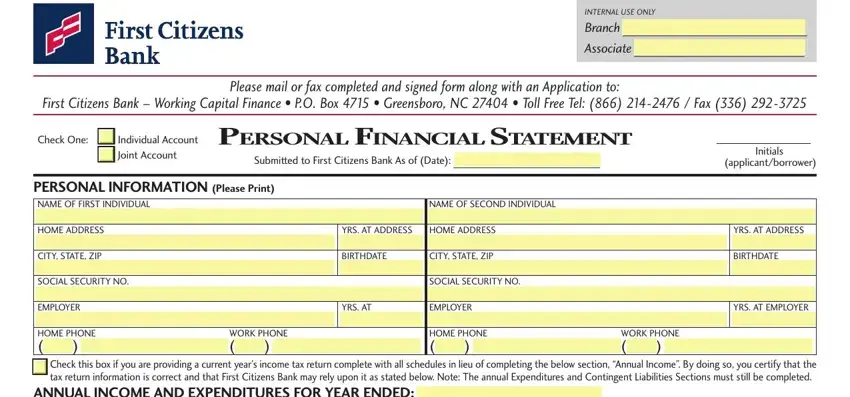 Type in the necessary data in the field GROSS ANNUAL INCOME, BORROWER, CO, BORROWER COMBINED, ANNUAL EXPENDITURES, BORROWER, CO, BORROWER COMBINED, SALARY, DIVIDENDS, REAL ESTATE INCOME, OTHER INCOME (List)**, Any significant changes expected, Yes, (If yes, Combined Totals, TOTAL INCOME, MORTGAGE, RENTAL PAYMENT, REAL ESTATE TAXES & ASSESSMENTS, TAXES, FEDERAL INTEREST AND PRINCIPAL PAYMENTS ON, ** Alimony, do not wish to have it considered, TOTAL EXPENDITURES, STATEMENT OF FINANCIAL CONDITIONS, Combined Totals, ASSETS, CASH (Sch A), DEPOSITS IN THIS BANK (Sch A), DEPOSITS IN OTHER BANKS (Sch A), BORROWER, CO, BORROWER COMBINED, LIABILITIES, BORROWER, CO, BORROWER COMBINED, NOTES PAYABLE TO THIS BANK, SECURED, and UNSECURED.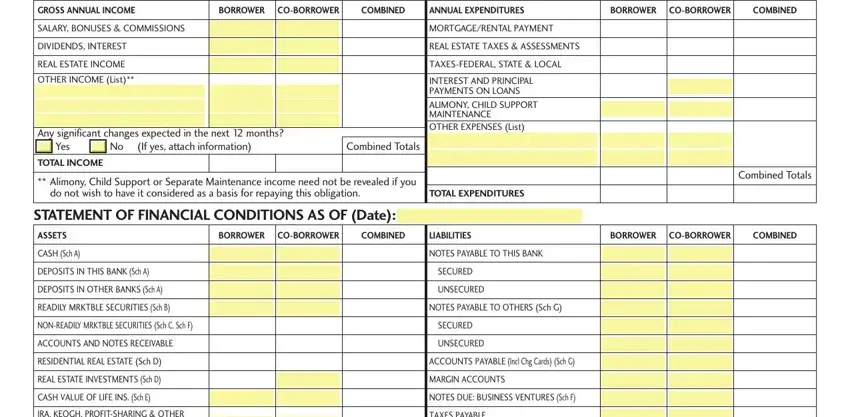 The software will ask you to put down some vital info to conveniently fill in the section READILY MR, KT, BLE SECURITIES (Sch B), NON, READILY MR, KT, BLE SECURITIES, ACCOUNTS AND NOTES RECEIVABLE, RESIDENTIAL REAL ESTATE (Sch D), REAL ESTATE INVESTMENTS (Sch D), CASH VALUE OF LIFE IN, S IRA, PERSONAL PROPERTY, OTHER ASSETS, NOTES PAYABLE TO OTHERS (Sch G), SECURED, UNSECURED, ACCOUNTS PAYABLE In, cl Ch, g Cards), MARGIN ACCOUNTS, NOTES DUE: BUSINESS VENTURES (Sch, TAXES PAYABLE, MORTGAGE DEBT (Sch D), LIFE INSURANCE LOANS (Sch E), OTHER LIABILITIES (List):, Total Liabilities, Combined Totals, Net Worth, and Combined Totals.

The TOTAL ASSETS, LIABILITIES & NET WORTH, and Page 1 field is going to be place to place the rights and responsibilities of all parties.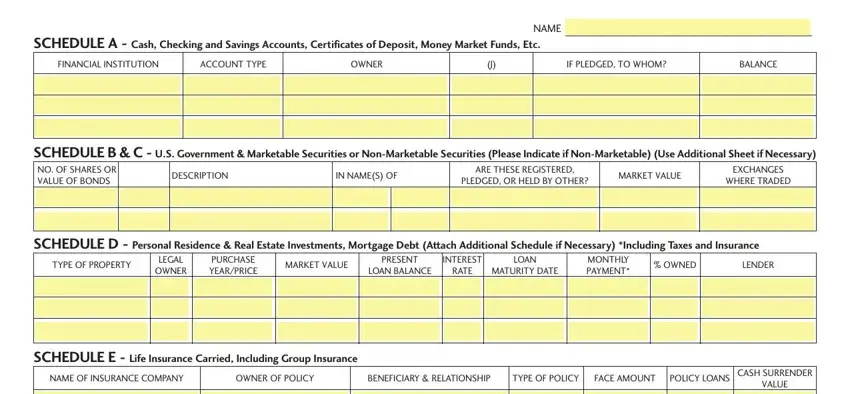 End by analyzing the following areas and filling them in as needed: SCHEDULE A - Cash, NAME, FINANCIAL INSTITUTION, ACCOUNT TYPE, OWNER, (J), IF PLEDGED, BALANCE, SCHEDULE B & C - U, PLEDGED, ARE THESE REGISTERED, WHERE TRADED, MARKET VALUE, EXCHANGES, DESCRIPTION, IN NAME, S OF, SCHEDULE D - Personal Residence &, TYPE OF PROPERTY, LEGAL OWNER, PURCHASE YEAR, PRICE MARKET VALUE, PRESENT, INTEREST, LOAN, LOAN BALANCE, RATE, MATURITY DATE, MONTHLY PAYMENT*, % OWNED, and LENDER.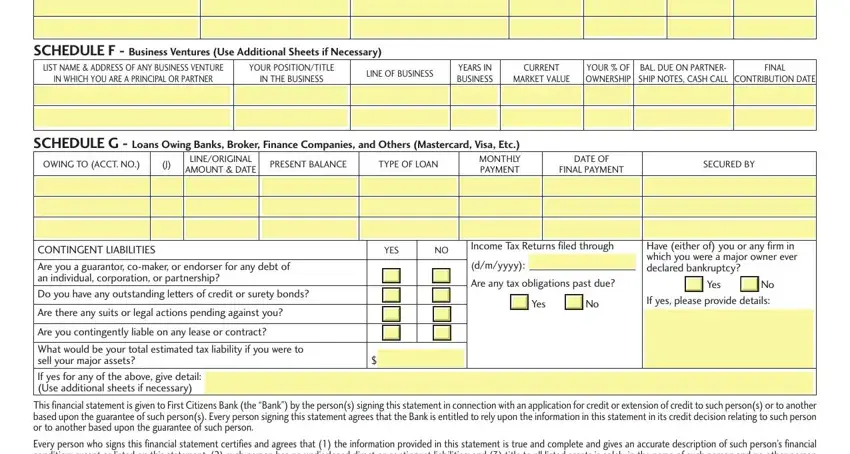 Step 3: Press the button "Done". Your PDF document is available to be transferred. It's possible to download it to your pc or send it by email.
Step 4: It may be more convenient to create copies of your form. You can rest easy that we are not going to display or check out your data.